"We even have Gingerbread smells in the store,"
said Adrian Newport, GM Merchandising. ~ "Androidland is all about fun, education for our customers, and the full experience."
Not sure if it warrants a trip over to the down under…but it sure does look cool!
…would be a great excuse for a market research trip! 🙂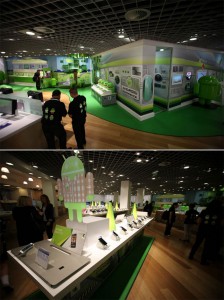 Google has developed a strategic partnership with Australian mobile telecommunications company Testra and are rolling out their very first Android Store, AndroidLand, located within Telstra's Bourke Street store in Melbourne. Warwick Bray, Executive Director, Telstra Mobile said it was the first time a mobile carrier had teamed with Google to create a dedicated Android retail presence.
"Over the past 12 months we've seen a huge growth in the number of customers coming in-store and asking us about Android phones and tablets. With Androidland we wanted to create a retail environment like no other that helps us to answer customer questions in a fun, interactive way."
Their focus is user experience and they've gone all out. Designed to show off all the different Android devices, customers can now shop for a Samsung, Motorola, HTC or LG phone or tablet and try them out all under the one roof. A technological Android Wonderland where android smart device enthusiasts can explore new android technology and be delighted by the Total experience.
Customers are invited to sit under the pixel tree and play with the Android devices on display at the store, which includes handsets and tablets from Samsung, HTC, Sony Ericsson, Motorola and LG.
In an interview with Wired, Philip Redman, a mobile analyst with Gartner Mobile had this to say..
"though the store may seem similar to Apple's retail stores, it's unlikely Androidland was created solely to make money."
I would generally agree with that statement considering they're the only company, of the top three mobile OS Giants in North America, without an actual brick-and-mortar shop focused on serving up dedicated devices. For them, Android Land is a bit overdue.  But good things come to those who wait and it seems Google & Testra want to over deliver to make up for lost time. The general theme is fun and creative with lots of cool things for you to do.
Interactive Display Windows
Testra and Google are demonstrating how creativity and innovation drive change and increase market share. They're drawing crowds of people to their interactive storefronts eager to see what all the fuss is about and the word seems to be spreading…..this is just downright cool stuff!
Explore Google Earth like never before…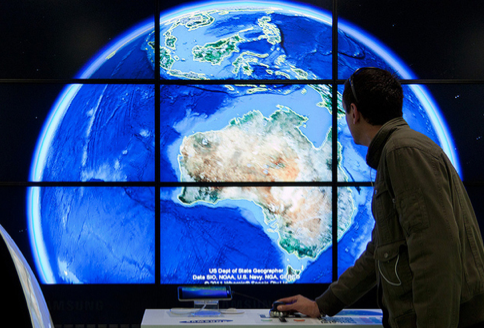 Inside the store, Telstra provides customers with a dedicated interactive spaceship zone that features a flight simulator via the search giant's Google Earth software, also including an massive screen on which visitors can play Angry Birds and a dedicated area to 'Androidify' themselves. A number of theme-park-esque touches have been designed to elevate Androidland above your everyday Kmart/Dick Smith shopping experience a huge 24 x 9 metre window display incorporates an augmented reality game for curious onlookers; and a play zone includes skill testers, clown games and a Google Books virtual library.
AndroidLand also has an open source platform that can be found on quite a few smart phones and tablets.
Mr Redman says it's possible the store was designed to promote brand awareness.
"I don't think anyone expects major revenue from the retail channel, but it is becoming a necessity," Mr Redman told Wired.
"With the number of phones, tablets and net books running Android, as well as the partner support, it makes sense."
Android is the current leader of the mobile market, with more than 200 million activated devices beating out former market leaders Apple and RIM (Blackberry).
My question is…What do the demographics and target market shake out to be? 🙂 …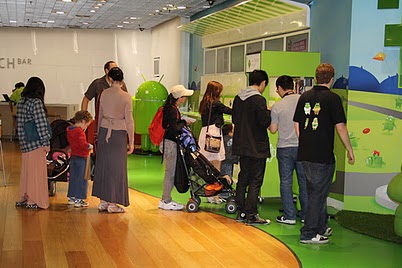 Read more:http://www.news.com.au
Source: AndroidLand