Most folks that try affiliate marketing eventually stop trying. It's a sad fact of the business. Many people get into it, spend cash (sometimes a lot of cash), and fail. Affiliate marketing is not for everyone.
After years of being an affiliate, teaching affiliates, and speaking with affiliates I've seen a few common factors for failure.
#1 – Too Many Campaigns (AKA – Lack of Focus)
This goes for paid traffic campaigns or organic campaigns. Too many of either and you're setting yourself up for failure. Big time failure.
Both forms take time to perfect. PPC'ers constantly tweak their ads, landing pages, and offers. How are you going to do this effectively if you've got 20 campaigns and none of them are doing well?
Organic guys build out sites and promote them with backlinks SERP rankings. That takes a lot of time. How are you going build out 20 new urls with good content any time soon? How are you going to build high quality links to each of those sites? If you answered "outsource" you're in for a real surprise…
Start small in the beginning. One PPC campaign or one site. Get some experience in the trenches first. You'll learn way more than you ever could through ebooks. When you've learned the ropes and you're comfortable with the work, grow. Add another campaigns or add more content and get that ranked.
Don't drown yourself before you learn to swim.
#2 – Unrealistic Expectations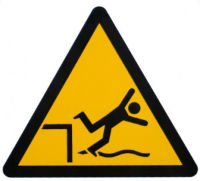 This one can be even more deadly to the affiliate marketer's career than #1. Your mind can be your greatest ally or your greatest enemy.
Understand that nothing worth doing is "easy."  (Don't confuse easy with simple either)
Affiliate marketing is no different. You've got hours and hours of education and trial and error ahead. Is it worth it? Yeah, it can be. That's not to say you're not going to hit speed bumps along the way because you will.
Instead of planning on making your first million this year, plan on making your first dollar. Set small attainable goals. There are a few of you who are going to see the word "attainable" and run with it. Earning $5k a month starting your first month is attainable but most likely is way off base. Set a goal to make a dollar. When you've done that set a goal to make $10. Then grow.
Have you found common pitfalls in affiliate marketing? Have any thoughts on how to overcome them? Let us know in the comments below.