Ahh copywriting. It's a science and an art. That is exactly the kind of duality that makes it such a potent tool for selling as well as intimidating to learn.
There have been days when the thought of copywriting has sent shivers down my spine. It's so pivotal to your success online. Yet is one of the biggest stumbling blocks when it comes to affiliate marketing and Internet marketing as a whole.
Let's take a look at some of the ways you can increase your copywriting acumen and improve your sales.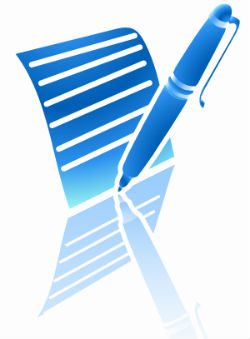 Copywriting Basics
#1 Copywriting 101 – Brought to us by copyblogger. You'll find a soup to nuts approach for beginners here. Think copy is all about headlines?? Well… you're partly right. But there are several other considerations too. Get great beginner training here.
#2 Copywriting Basics – Aim For a Short Average Sentence Length. This lesson in brevity is a fantastic tool for web based copy. People reading on the Internet have the attention span of a common house fly. Get to the point quickly. This is particularly useful in affiliate presell copy.
Long Form Sales Copy
There has been a heated debate over the proper length of sales copy. It's been proven over and over again that long copy typically out performs short copy. As a wise man once said though, "Don't write 10 pages when 3 will work."
#1 Anatomy of a Long Sales Letter – Visual Website Optimizer is a fantastic tool to help you increase your conversions. Turns out, the guys who made the tool know how to put together a great blog post too. Who'd a thunk?
#2 Why Long Form Sales Copy Will Never Die – Another great read from the copyblogger crew. This isn't as much a "how to" post as it is an examination. You'll find some interesting concepts such as the "sideways sales letter."
#3 When Long Form Sales Copy Doesn't Outperform Short Copy – Yes this is in direct conflict with the topic of this section. This piece was written by Craig Garber. Craig is a stellar copy writer. That is his skill. Not web design. Be prepared – this is an ugly page. But you know what? It doesn't matter because his copy sells.
#4 – Short Vs. Long Upsell Copy – This article from Mindvalley is very interesting. They tested long vs short copy in their upsell process. This is slightly different than your average sales letter debate since this is exploring what happens after someone has made the choice to buy.
SEO Copywriting
#1 Web Copywriting for Search Engine Optimization – This is a well written article that explains what seo copywriting is all about.
#2 SEO Copywriting Checklist – This is a handy checklist for seo copywriting. Bruce Clay is one of the oldest and most respected names in SEO. This checklist is technical but very easy to implement. Great tips here.
#3 Balancing SEO and copywriting best practices – This is a guest post from an SEO working for Brick Marketing, a respected firm. Writing good copy while keeping good SEO in place can be challenging at times. This post has 4 great tips to keep a good balance.
Copywriting Tips, Tricks, and Hacks
#1 How to Steal Killer Sales Copy Straight from Your Prospects' Mouths – This post from KissMetrics is awesome. Get 2 insanely sneaky (but ethical) tricks for stealing killer copy from your prospects. This post is a goldmine.
#2 Emotional Direct Response Copywriting – This is a cute video from Craig Garber and his daughter. They go through questions that customers have sent in about copywriting. Craig always shares killer copywriting tips.
#3 Gary Halbert's Boron Letter Series – Gary Halbert (may he rest in peace) is widely recognized as one of the best copywriters of all time. His free series called the Boron Letters is a virtual university of copywriting lessons. This is a must read.
Have any killer copywriting tips?  Please share in the comments