I'll state this upfront – If you're not a WordPress person, never have, never will be then this post is not for you. That's the blunt fact of the matter. Today we're taking a look-see at some themes affiliates would find useful.
If you've been using WordPress for any length of time you know by now that there are a million themes out there. Some free and some paid. And not all themes are created equal – ESPECIALLY where an affiliate is concerned.
As an affiliate marketer you'll find that you require your WordPress site to accomplish a lot things for you. After all this is your conversion engine – the place where you do your damndest to get a visitor to convert in one way or another.
A few types of pages you might want to accomplish on your WordPress powered site would be:
CPA style landing pages
Squeeze Pages
Product Reviews
Presell Pages
Article Pages
Blog Posts
Well as you're aware – each of these types of pages requires different layouts and page elements. Unless you're super WP savvy getting that done with a free theme is going to be tough.
So let's take a look at a few premium WP themes affiliates might find useful.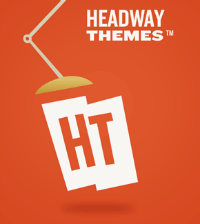 #1 Headway Themes
http://headwaythemes.com
Price: Base = $87 Developers = $174
Flexibility: 10/10
Ease of Use: 7/10
Headway themes is the most flexible theme of the 3 we'll look at today. This theme is the ultimate in terms of code-free customization. That means you don't need to know a lick of code to customize almost any element of a page (layout, colors, fonts, etc).
What's best about this system is that it's "Drag and Drop." Simply use their editor and create a site from scratch by dragging and dropping elements like content blocks and widgets. Or if you want you can start with one of their pre-made layouts and customize from there.
Want to create different layouts for different style pages on the same site? No problem.
In all honesty Headway is almost the perfect theme.
The only drawbacks (as I see them) are 1 – the price and 2 – the slight learning curve of the editing system and 3 – you need to be slightly creative to get the most out of the system.
Yes believe it or not their "code free" editor does take a bit of time to learn how to use. It's not hard to use – it just requires time to learn. And if you're not creative you're not going to know what to do with unlimited layout potential.
#2 Elegant Themes
http://eleganthemes.com
Price: $39
Flexibility: 8/10
Ease of Use: 9/10
Elegant themes is not a single theme, but it is a single price. When you buy into Elegant themes you get yourself access to over 70 different themes. On top of that they are all customizable to different extents.
Each theme contains a control panel that allows you to customize your site. You can change layouts, navigation, advertisements, colors, search engine optimization, and more. It's pretty snazzy and very easy to use. No code – no fuss. Just drop down menus and radio buttons to click.
Hmm… that last paragraph sounds like copywriting. I swear I don't work for Elegant themes. I just appreciate a good product when I see it.
Another cool aspect of Elegant themes is that all themes come with Shortcodes built in. Again, no coding involved. These just add very easy ways to include buttons, boxes, toggled content, image sliders, and more into your theme. I've found the short codes really helpful when creating affiliate content like product reviews and presell pages. It adds another level of style to your page making it look really good. This is something that no other theme in the list offers.
#3 Affiliate Theme
http://www.affiliatetheme.net
Price: $77 – $147
Flexibility: 7/10
Ease of Use: 8/10
Affiliate theme was built with the affiliate in mind. It's got the flexibility to be a full CMS – blog pages, static pages, and landing pages. But where this theme really shines is in creating landing pages.
The basic package comes with 5 niche skins and 6 unique page templates. That'll be enough to get you going. The skins are nice because it clearly defines your site to the visitor without them having to read a word. However if you're going to test offers outside of those niches they won't do much good for you.
The page templates are nice. They allow you to quickly change the look and feel of your content. The only downside to the page templates is that they are not as customizable as I'd like and sometimes it was tough to get content to look "just right."
Overall this theme will get you up and running quickly but may leave you wanting for more at the end of the day.
Have you used any of these theme? What did you think of them? Leave a comment below.