According to Reuters, Twitter Inc has suspended more than 636,000 accounts since 2015 in an effort to tackle "violent extremism" on it's social media platform.
In the company's latest report, it shows that a total of 376,890 accounts have been shut down just inside of the last six months of 2016.
Twitter has also stated that it had begun taking legal requests to remove posts by verified journalists and media outlets.
Is this censor or a positive action towards bullies and "fake news?"
One would also have to ask are these the actions of a sinking company? Wired, earlier this year, did a expose on if 2017 was the year that Twitter either died or thrived.  The company seems to be plagued with either bad luck or just plain old bad business decisions (the end of Vine).
Sure, it's not easy to turn around a failing company.  But at some point, you have to ask: Are we going to make it?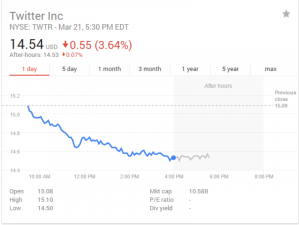 Twitter's value, unlike other networks, lies in its power users, the ones use use it to give voice to both people and movements who otherwise might not have had a chance to be heard.
Take the 2016 elections for an example, or even how many use it to share their experiences surrounding a crises.
All in all, Twitter has the numbers and the tools to turn itself upright. The challenge is getting the company itself to be more decisive and to fix the items that according to many users are simply broken.
What are your thoughts? Is Twitter still a reliable source of marketing for your company / brand? We would love to hear from you in the comments below.