This article is sponsored by dont.farm
Hey guys, check out this announcement from dont.farm:
dont.farm is made for affiliates and media buyers who provide traffic via Facebook. Our service gives you an opportunity to buy quality FB accounts and payment cards for advertising. There are lots of benefits when becoming a dont.farm partner.  Please find some additional information on those below.
A few words about our accounts: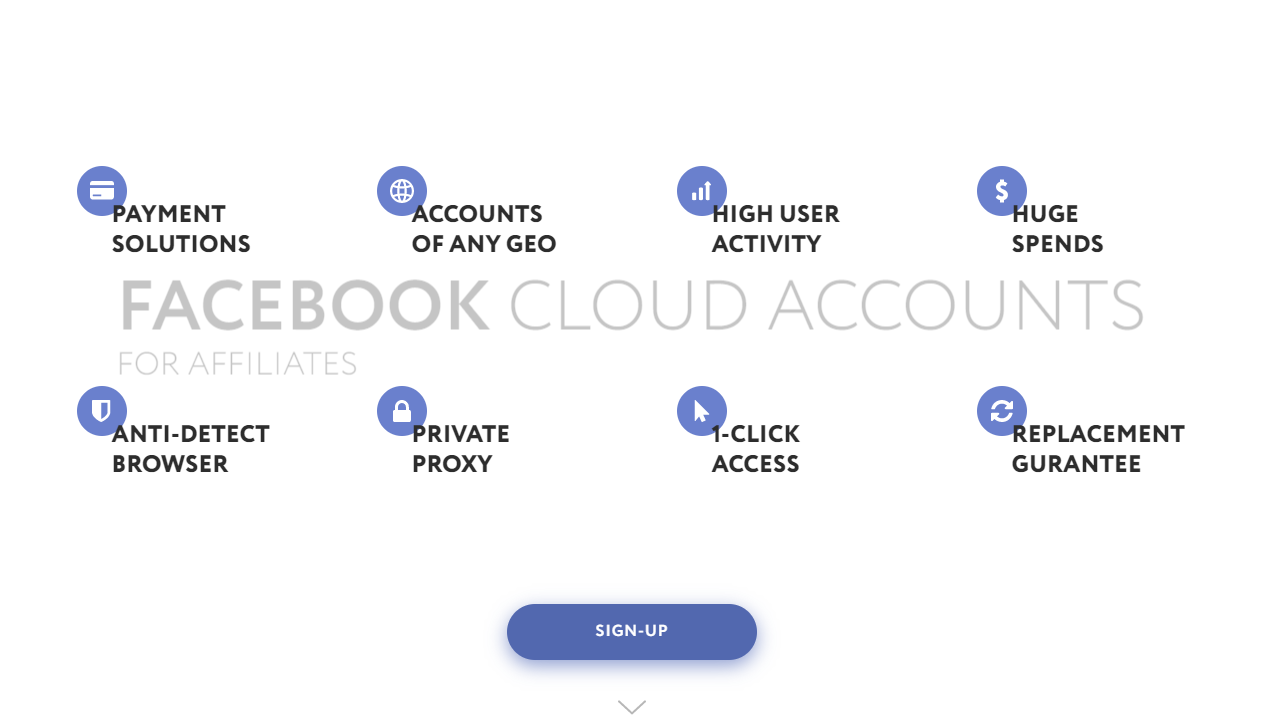 To identify scams in advertising – Facebook assesses two main metrics:
User's social page trust level
What was advertised previously on the ad manager account
Our accounts easily pass both of these standards.
The account you'll get will be at least 2 years old (most of them are at least 5 years old) with non-stop activity of hundreds of thousands, even millions of actions and a large amount of friends. That creates a unique behavior pattern, which is impossible to replicate by machine. Most importantly, the owner of the account doesn't lose their ability to use their social account, and continues to use it as it was before purchase.
These accounts that you'll receive were never used in advertising before, which means you're in full control of your own results. No one has ever used these accounts before you.
Everything that you might need for advertising on Facebook is already included in the account price:
Unlimited Residential Reverse Proxies already built-in and unique for each account
Anti-detect browser which simulates real user profile
Autonomically working RDP, which will resolve all technical issues for you
And a very responsive support team 24/7, who are directly interested in your results.
Rates: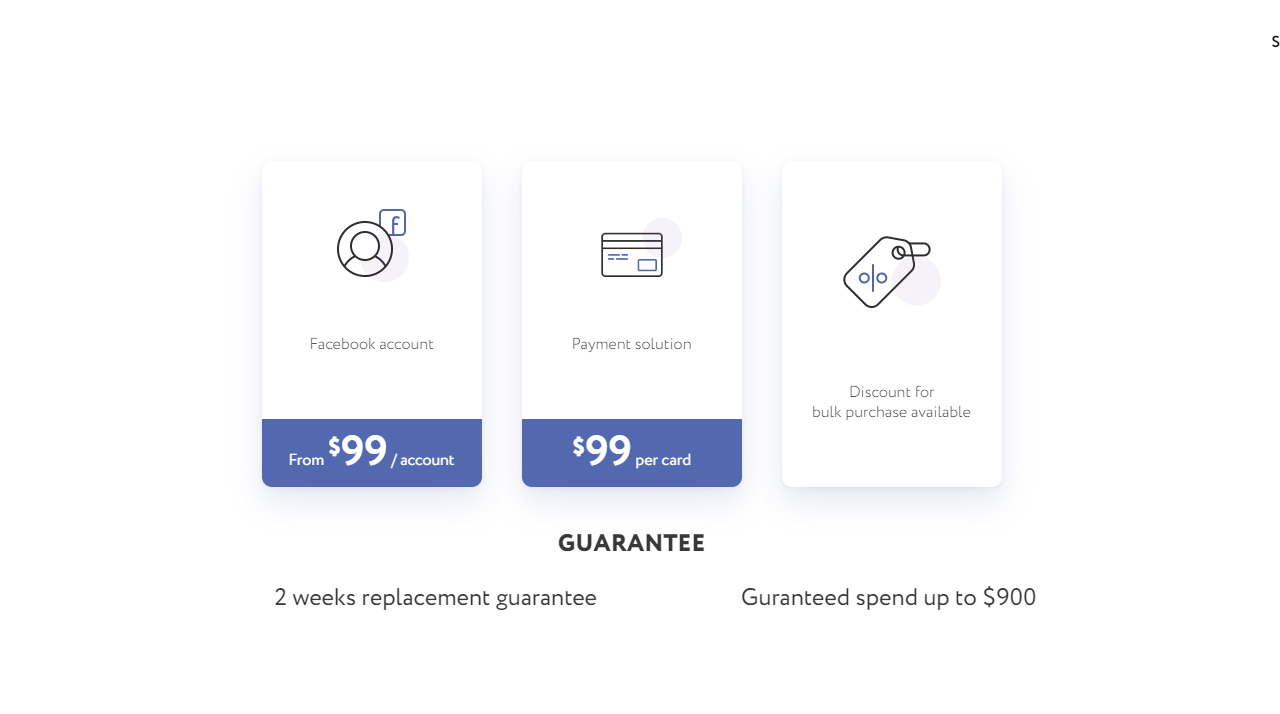 The price for each account depends on its country. Minimal cost is $100, maximum is $300. For example, the price of a Russian or Ukrainian account is $130. But rates are constantly renewing, so these prices are only relevant at the moment of writing this article.
The price of the account doesn't include a payment card, although it is available for purchase separately and costs $100. Availability can always be checked with your dont.farm manager.
Deposit types and bonuses:
Deposits can be made by Russian bank card, Webmoney, Qiwi wallet, Yandex.Money, and Bitcoin. There is no minimum deposit amount, but there are 2 types of bonuses for the first purchase and for bulk buyers. Bonuses can be used to pay 30% of the account cost. If $500-$1,000 is deposited, you get a bonus $ plus Google/Twitter account as a gift. For bulk buyers, bonuses are for first-time purchasers – if you deposit $300, you'll receive a $100 bonus and the bonuses only get higher as you continue to deposit more. For any deposits over $20,000, please write to the support team and you will certainly receive unique conditions.
dont.farm has launched a new version of the platform that has:
Availability to work directly via browser. In the previous version, to start a virtual machine it was necessary to download RDP files. Now everything can be launched directly from the cabinet on a website: Also, now it's possible to access an account via mobile devices, for example to check statistics.
Page downloading speed. Majority of the countries now have premium proxies (speed is up to 40 mb/s) – even in a laggy ad manager, everything works very fast.
Support. The number of managers has increased, and it's quite noticeable – they respond very fast, usually within 30 minutes, sometimes even at night. Almost all questions are resolved immediately.
Design. Entirely redesigned interface, so the work in the new cabinet is much more enjoyable. Yes, it doesn't affect the lifetime of the accounts, but still a valuable upgrade.
Telegram bot. Configure integration with telegram and you'll be able to monitor all the moves of your accounts, replacements and account logging. Plus, you'll receive notifications about readiness along the way.
How to buy an account?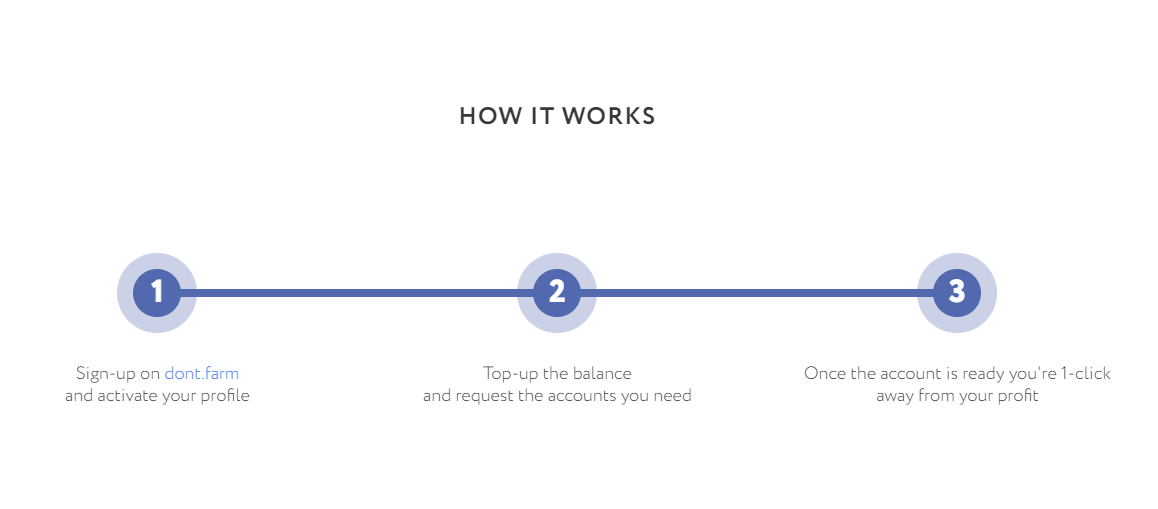 To purchase an account, you'll first have to register on the platform. After completing the registration form, please verify your e-mail and make a deposit. Then go to "My accounts" and press the "Request an account" button. Choose the country and currency of the account. We strongly recommends choosing the option "Create a Fan Page", because without this option, you won't have a warranty. This lets you receive an account with an already created Fan Page and Business Manager for you, and additionally all the notifications inside of them will be disabled, which will significantly speed up the start of your work.
After account purchase, you'll be able to access the instructions, which will be available in the form of a "Knowledge base". Upon account log in, you won't need to use proxies, anti-detect browsers – you simply enter via RDP (Remote Desktop Protocol) – remote access protocol to the server, which contains Virtual Machine with the account on it. System is configured in a certain way, that for neural networks VM almost won't have any difference to the personal device of the user. This setup provides the highest possible secureness for the account in comparison to other solutions available on the market.
For Windows:
Just launch the RDP file and enter the password which you received, everything else works automatically.
For Mac:
Install a remote desktop application and launch RDP file, enter the password, and everything else will work automatically.
Summary: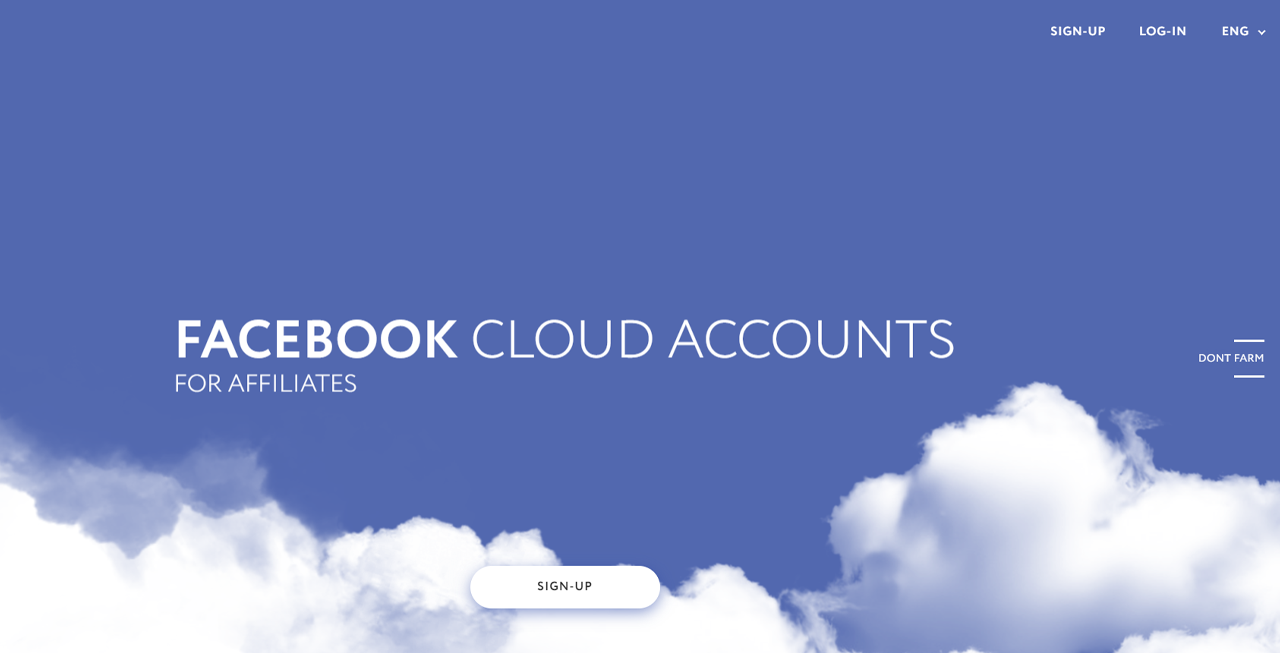 dont.farm – is a service for purchasing FB accounts with a convenient interface and the option for replacement during the first 2 weeks. We provide 1-click access, private proxies and an anti-detect browser already included in the price. You'll also receive a detailed manual upon launch, bonuses upon first deposit and high volumes. We have a wide variety of countries and account currencies with an option to buy payment cards as well. Don't forget about our 24/7 support to answer all of your questions along the way. But the main advantages of dont.farm are our account lifetimes and high spending limits. This advantage can be only seen by testing our accounts. dont.farm recommends trying at least 1 account for a test and compare convenience, lifetime and spending limits.