Another piece of news on the mobile marketing front…and once again another opportunity to potentially cash in huge.
According to the Financial Times, Facebook is set to launch advertising on mobile devices.  This comes as no surprise for a few reasons:
1 – Facebook is looking to increase revenues any way possible for the IPO
2 – Over 50% of Facebook access is now on mobile devices (thus they are effectively losing out on almost half of their potential revenue)
3 – They are currently not monetizing mobile as they should be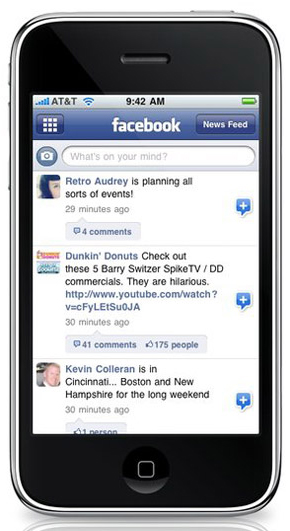 The Financial Times said that, "Several people familiar with Facebook's planning say that it has already discussed proposals with advertising agencies for displaying what it calls "featured stories" in the news feed seen by users on the site with a launch likely in early March ahead of its initial public offering, which is expected in May."
It looks like they definitely plan to offer featured stories and I'm sure there will be other forms of ads.  Lets take a look at some possibilities you might want to prepare for…although it's likely they will roll out different ad types slowly and deliberately to ensure user acceptance.
Sponsored Stories
To be able to run a sponsored story, your business must have a facebook page and "Likes".  So in order to prepare for sponsored stories advertising make sure that you have a facebook presense and get some Likes!
Banner Ads
It's likely that Facebook will attempt to monetize with display inventory of some type.  Don't expect your average top and bottom mobile banner placement from facebook.  I would put money on Facebook creating some proprietary ad sizes and placements for their display inventory.
Be prepared to adapt your mobile display banners…and jump on things early while everyone else tries to catch up.
Localized Ads
I would expect Facebook will tap into local targeting capabilities and pass this option on to its advertisers.  This is extremely powerful for brick and mortar local businesses but could potentially be "exploited" by creative affiliates…especially in the beginning when competition is likely to be low.
So here we have yet another mobile marketing opportunity that could potentially be the biggest one yet.  Keep an eye out on this, prepare ahead of time, and get in early!