As Pinterest grows, so does it's potential as a traffic source. In previous posts we've examined how spammer's are were making money with Pinterest and we showed you how ethical businesses are using Pinterest.
Today, we're going to learn from the spammers and the ethical marketers and apply it to affiliate marketing.
Build Your Site
Spammers did well by posting images of products that led straight to the product page on amazon. Direct linking to Amazon won't work anymore though. So make sure that your site has dedicated product review pages your Pinterest pics can point to. You could easily build out a 100 – 500 page site using an Amazon datafeed.
Each Page Should Contain:
Product image above the fold
Call to action button above the fold
As much quality content about the product as you can create (not just default descrip from Amazon)
Product review information – tell the visitor what's great about the product and what could be better
Build a Persona (or use your own)
This is going to be controversial to some and brilliant to others. Pinterest is a social network. Social networks are driven by people (mainly). People are interested in the things that other people use, eat, entertain themselves with. So in order to tap into that network of traffic we need to look and act like real people (which won't be hard cause you are one, right?).
Put together a basic profile of your niche's average web visitor. If you're simply trying to promote a niche that you are personally interested in, there's no need to fabricate the persona. You are the persona. So the following steps won't apply. But for most of us in affiliate marketing, we're promoting multiple niches.
We'll stick with our golf example for this.
1 – Search Quantcast for Demographic Data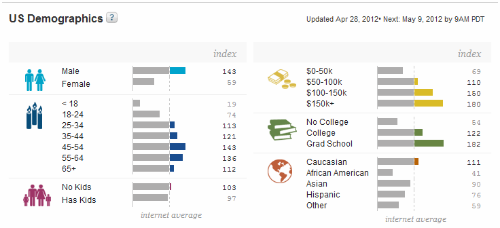 To get this data I searched Quantcast.com using a very high traffic site in my market, www.golf.com . This is just an exercise. If you're promoting products that help golfers improve their swing then find a site with good traffic in that niche. Right now we're assuming we're trying to promote any and all golf products via Pinterest.
2 – Find a Picture
Look at the data and figure what the most "average" visitor would be like. This is going to become our persona. We're going to use the most common denominator, so to speak. Obviously this persona isn't going to reflect everyone in our niche, but it will reflect some. Doing this will make it easier for us to fill out a natural profile instead of just posting golf images.
After looking at this data here's what (or should I say, who) I'm seeing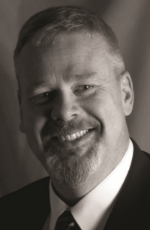 (I pulled this from G Images – for demo only – get your images from istockphoto or someplace similar so you don't have to put in credits like this → image source: http://www.nationalheritagemuseum.org/Programs.aspx)
3 – Write a Short Profile
=====
Meet Jim Battaglia. After graduating from university he went on to pass the barr exam and become a lawyer. Unfortunately, because of all the long hours he never really found the time to have a family. What he did find time for though is golf. He loves golf with a passion. As he gets older he finds it important to work on his conditioning so he can golf all season. It's not easy playing 18 holes on a hot day when you're 50!
=====
See what I did there?
I put together a simple profile of a fictitious person who might be in the golf market. After looking at the data you can tell this guy is 45 – 54, has no kids, is fairly affluent, went to college, and is caucasian. This will help you when filling out a bio paragraph and adding pictures outside of your golf related images.
We're learning what our target market is like. By getting in the mind of the customer you can approximately behave the way they would on Pinterest.
Next up, building and promoting your Pinterest profile.
Questions? Leave a comment