I had posted a somewhat curtailed discussion about the nuances of push and pull marketing as it relates to mobile on my personal blog. There are times where it's preferential to use pull marketing, times for push marketing, and times for a combination of both. Ultimately though, you really want to think about stickiness and build methodologies around how you're going to accomplish that. When you set out to put together that mobile affiliate portfolio, use these four methodologies around increased mobile stickiness: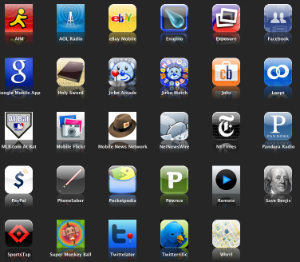 Apps – Apps are likened to the true bookmarks of the mobile phone. 80% of time spent on mobile browsing is actually done within apps. It's where users are and where you want to be. Now, stick to the major platforms. This means Android and iOS. They each have their pros and cons but those are the platforms which the majority of global users (including the United States) are moving to today. In general, you'll find that you have a lot of flexibility within Android; whereas, in iOS you can typically generate more value from an individual user. Regardless, apps are built for stickiness. Mobile sites aren't.
Branding/Experience – Tie this in with your app creation. This really depends on what type of user experience you want to provide for your users, but the better the experience, the better the stickiness/return visits. This is also particularly important within the app world, as reviews and ratings really impact your download numbers.
Email – It's the secret of the mobile world. Many email providers are finding that the majority of opens actually happen on mobile devices. If you're able to engage with your users via email, it's a great tool to drive usage to an app or even to a mobile site. If your email is being opened on mobile, chances are it's happening on an Android or iPhone. Blackberry, not so much!
Push Notifications – An alternative to email when you're thinking about mobile. It's a way to drive massive amounts of users back to your app. You really don't have to use email any longer. Think of push notifications as the new email with the one major difference being it's a lot more similar to a text message than it is to email. However, it still drives lots of traffic with high click-through-rates and high engagement. But use it sparingly and carefully! If it becomes annoying, users will uninstall your app.
As always, you can read quite a bit more on any of these topics at Applied Revenue. I blog daily and expand on these themes all the time.