Affiliate landing page creation is sometimes the most tedious part of promoting affiliate offers. They require creative thinking and design. Which page do you create for which offer? It's tough to know and sometimes tougher to execute.
Today we're going to take a look at advice shared by some of the best affiliates blogging today.
Approaching Landing Pages with Creativity
There are several different styles of landing pages you could create to presell an offer. Here are a few broad styles to start with:
Blog
News
Quiz
Review
Graphic
These style could be applied to most affiliate offers. Some will work better with certain offers than others. Use one of these lander styles to creatively approach an offer. The following quote was taken from a post examining how to create landers for mass appeal style offers that take advantage of high volume traffic.
For example we see "dogs" is up there pretty high and we know people love their dogs. Could it help to use a dog in a blog story or a new article? What about a quiz on the frontend of a mobile offer about dogs? Like the IQ stuff but all dog focused. How much do you know about dogs? Can you see the creatives running with puppies on them? Do you think that might get some clicks. Of course dogs might not work to well on review but you could definitely integrate with a graphic lander as well.
source
Pretty cool concept, right? Create a quiz for the dog lovers market. How many other markets could take advantage of that concept? Quite. A. Few.  In fact it's been done.  Just take a look around.
Utilizing Your Account Manager's Resources
Scoop published a popular guest post recently titled "Secrets Affiliate Managers Want You To Know."  It's a well written post encouraging affiliates to ask their account managers for guidance. Don't know what type of landing page to create?
Ask your account manager what's working well. Hell, they might even have LP samples they can share with you.
Don't be afraid to ask for guidance or direction. They have the info you need. That doesn't mean you can be lazy and expect everything to be handed to you. That's now how good working relationships are created. You've got to give in order to get. Remember that part.
Utilize Landing Page Templates & Examples
There are a metric sh*t ton of examples to be found online. With a bit of savvy searching you could most likely find an example or template for almost any niche. Use what's available to you. It may not make you money. What it will do is give you a variation to test and that's one more than you had a minute ago.
Justin Dupre (a pretty stellar affiliate btw) has a cornucopia of free landing pages for you to try. Just check out his category "freebies" on his blog. Here's a link to it.
Want more landing page examples? Man you're lazy… here you go…
The other day I was browsing WickedFire and I stumbled upon a few landing pages that were being given out for free. I figured I might as well post them up for people to use. Feel free to use these wherever you feel like it.
link to page with templates
And another one for the people…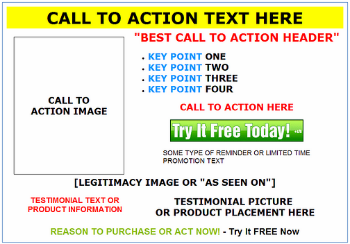 This one is generously provided by Zac Johnson. When you go to his page you'll be able to download two landing pages. 1 is designed specifically for a weight loss offer (for your reference) and one is designed to be customized for any offer you like.
Heres the link where you can get his landing pages
Have any other landing page templates you want to share?  Comments?  Hit the comment section below.