The art of the swipe is an affiliate's best friend. Learning from your competition has always been a smart way to go about business. Intelligence is powerful. It can be both a blessing and a curse.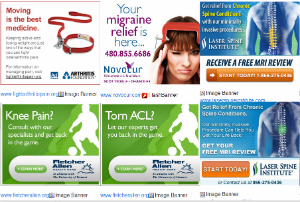 Personally, I think it's more blessing. It helps the creative process move along faster and gives you insight into what works. If you see big time affiliates using a specific color over and over again, do you think you should try using it too? It might be worth testing.
As the saying goes though "with great power comes great responsibility."
Just because you have access to all of this amazing data (through one of the tools I'll share below) doesn't mean you should just steal it. This isn't a post about how to steal other people's hard work. That's garbage and the mark of a true d-bag.
Onto the tools! These are in no particular order
#1 – Moat.com
You may have noticed me utilize moat in my banner ad critic posts. It's a free to play tool. It'll get you started and headed in the right direction. If you need quick inspiration you can find it here. The one drawback is that you'll need to futz around entering urls, brand names, or product names to find the advertiser you're looking for. It's easy to find big brands like Nike. Not as easy to find The Truth About Abs.
Pros – Free! Need I say more.
Cons – Limited, Hard to Find Advertisers
Rating – 2 out of 5
#2 – WhatRunsWhere.com
Their name really does say it all. This is a killer service and it just got better. Recently they released their "Ad Vantage" program. This is their entry package that allows you to find banners within the Google Content Network.
You can search for banners via keyword, advertiser url, publisher url, or just look at the top performing banners across the network.
All for $19/mo.
The Ad Vantage program will get your feet wet. The next level up is a huge jump in price and amount of data you'll have access to.
Pros – Affordable entry package, Great Search Features, Easy To Use
Cons – Can Get Expensive
Rating – 5 out of 5
#3 – Adbeat.com
Adbeat isn't just a banner spy tool. It does a lot of things that affiliates could appreciate. You can spy on ad type breakdown, ad split tests, traffic sources, landing pages, sales funnels, and of course banners.
This is a pretty hefty tool. It's designed for serious online business owners and affiliates.
Their pricing is quite a bit more for Google only data. Although they do have a slightly lower rate for all network data than WhatRunsWhere.com.
Pros – Amazing amounts of data at your finger tips, Handy Charts, Many Features
Cons – Pricey for Google-Only Data, User Interface Learning Curve
Rating – 4 out of 5
You really couldn't go wrong with either of the two paid options. They both are very good at what they do. Adbeat.com seems to offer more from an analytically perspective. There's just a bit more depth to what you can research. Although I do believe WhatRunsWhere to have superior data and an awesome price plan for Google-Only data.
It was tough to choose a winner between the two. Honestly, it was a struggle. That tells me that you'll be in great hands no matter which you choose. I gave WhatRunsWhere the 5 stars based purely on the affordable price plan. If money is not an option it'll come down to what exactly you want to learn from your research.
Have you tried any of these tools? Which do you like? Got another tool you prefer? Let me know in the comments.