Recently Facebook announced that they'll be unveiling a new Newsfeed for it's members. The move comes after a deluge of user complaints that the current newsfeed is too cluttered.
What To Expect
You may have even noticed some changes taking place in your newsfeed already. For example images are now being displayed in larger more "rich" looking thumbnail versions.
One of the biggest changes though is the addition of the newsfeed "feeds" section. It'll be located in the upper right corner when you login via desktop. In the exact location where ads can be seen today.
The feeds section will operate sort of like filters. You can click the photos feed link and see all of the recent photos added. You can click the all friends link and see all of the recent posts that your friends have made. It's a user interface change designed to make browsing Facebook content easier. Here's what that's going to look like: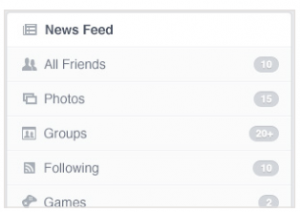 What Facebook Says About It
How To Get Your Hands On It
It's not something you can sign up for like the Graph Search beta. This roll out is going to happen slowly over a number of days. Here's what Mashable reported on that timeline
Just how long you'll have to wait, however, isn't quite certain.Facebook said at its big unveiling press event Thursday that the new look will begin rolling out to users that same day. So some lucky folks will be exploring the new features before bed tonight, while others will have to wait a bit longer. We've asked Facebook for a ballpark range, but so far haven't gotten a response.
source
For now just sit tight. You may have seen changes happening and not realized it. For example I've noticed uploaded images are taking on a new slightly different look. I don't have the feed filters yet, but it's probably not far off.
Conclusion
The new feed looks good. It's nearly a seamless upgrade with a huge addition to functionality. What I'm personally curious about is how it's going to affect the ads section. Will they simply be pushed down? Most likely. Will it affect ad costs? Time will tell.