SEO got you down? Or more specifically, does it have your website down in the rankings? SEO has evolved in recent years there's no doubt about it. Getting and keeping rank is more complicated than ever in some respects.
Fortuneatly for you and I there are some seriously smart math folks out there. The guys and gals from Searchmetrics.com have put together a pretty fantstic ranking factors infographic for us.
Below you'll find a breakdown of what well positioned sites have in common with each other as well as what makes them different from their lesser ranking competitors. Use this as an indicator of what has the greatest impact on your rankings.
Here's to higher rankings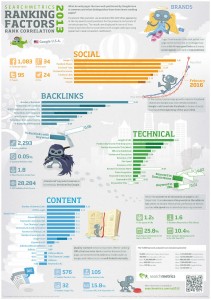 infographic credit searchmetrics.com