When was the last time you've used SEMRush.com? I'll tell you what – they've stepped up their game recently. They've launched their new system design. I spent a little time with it and wanted to share what I found with you.
What I love
#1 Dashboard Overview Analytics
This was a really nice touch for busy site owners. When you plug your domain into the dashboard overview section you'll see some interesting stats at a glance. You'll see stats like:
# of organic keywords ranking
search engine traffic levels
# of ads keywords
ads traffic levels
Pretty good stuff for "at a glance" convenience. On top of that you can add multiple domains (Tabs allow for 4 comfortably).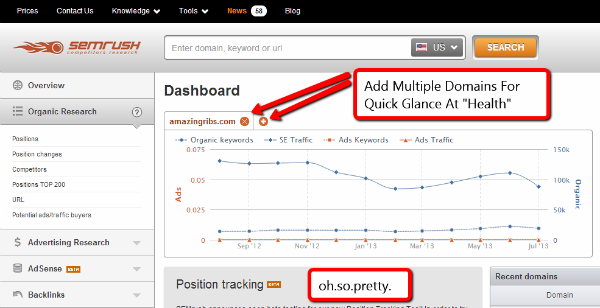 #2 Amount of Data Available
When you type in a domain name into the search bar you'll get data on several key categories. They are:
Organic Research
Advertising Research
Adsense
Backlinks
Keyword Research
#3 Google Based Data
This one is clutch. I don't know about you but for me, finding good quality GOOGLE keyword data is getting harder and harder. I know there are those that say it doesn't matter as much anymore. But to me, it's still the major player in town and that makes a difference.
#4 PDF Exports
Great for client work, if you do that kind of thing. (also – look how damn beautiful that screen is)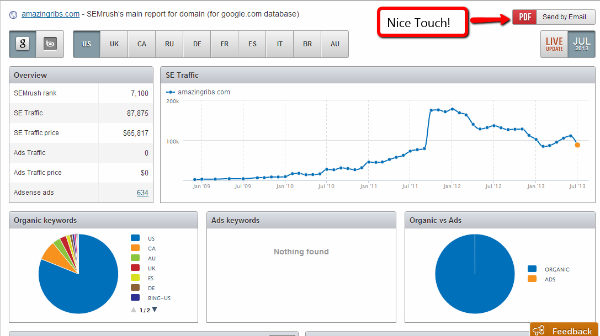 #5 Data From Multiple Countries
Whenever I do trainings this question inevitably comes up.
"How do I get search data for insert country here"
Well now my answer is a lot easier. SEMRush. You can get search and advertising data from several countries. They are:
US
UK
CA
RU
DE
FR
ES
IT
BR
AU
Those are definitely the most popular countries I get questions about. So bam. There ya go.
#6 Backlink Tool (Beta)
Although their new backlink tool is in beta, it's clearly going to be a powerhouse. Just check it out in the screenshot below.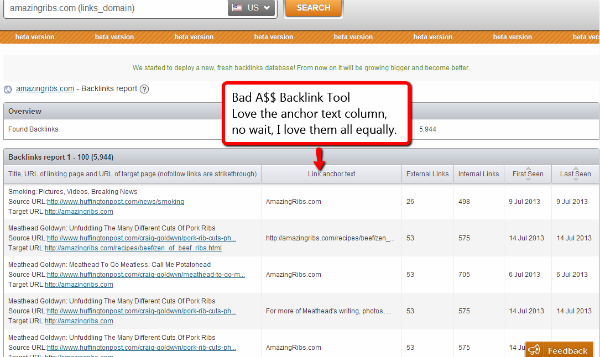 What I Didn't Love (AKA Nit Pick)
Honestly this was a tough section to come up with. I'm kind of in love with SEMRush all over again. They've obviously spent a lot of time building this thing. And trust me, I speak from experience, developing intuitive useful apps is no small feat. So with kid gloves I'll jump into the one nit pick I have so far.
#1 Navigation Confusion
At first it was tough for me to find the link back to the dashboard overview. I kept clicking "overview" and it didn't bring me to the page I wanted. (The link to the dashboard is hiding in the upper right hand corner under your username in a drop down menu FYI)
Honestly… I tried to come up with something else for this section. I really did. I'm not taking the lazy man's way out. It's just that at this time – I have no other nit picks.
Is that to say the tool is nearly perfect?
Nah…
The more you use a tool the more you get a feel for it's short comings. It's just the name of the software developement game. Nothing is perfect. It can always be improved. But for now – I'm a happy camper.
I totally recommend you check this tool out if you're at all interested in:
Competitor intelligence
Keyword research
Tracking site analytics
SEO
PPC
Media Buying
Adsense
International SEM data
Here's a link to SEMRush.com