Facebook is upping their ad image game. At least in size. New size for Facebook image ads are now, in some cases, 3.5x's bigger than before.
Mashable reported: meaning advertisers can create ads of different types without needing to send in multiple image sizes. Facebook is also working to encourage ad clicks on the site. Page post link ads, or ads that send a user to a desired landing page linked by the advertiser, will now link from the entire image and text box. Before, a user would need to click on the specified hyperlink within the ad to view the advertiser's landing page. Now, anywhere you click on the image or text will bring you to the advertiser's page.
On top of the pretty new big images comes NO increase in price. So at least for now, affiliates will be advertising BIGGER for the same prices they're paying now.
The good news keeps coming too.
Larger images will also appear on other posts that share a link, not just ads. So if a user shares a link to a news story, that post will contain a full-width image instead of a traditional thumbnail.
BEAUTIFUL. Facebook is really starting to figure out how to tickle an advertiser's fancy!  These are solid improvements that "should" help advertisers increase click through rates. We'll see, but logic is on our side.
Here's what all this new fancy image ad size stuff looks like (click to enlarge – you're going to want to)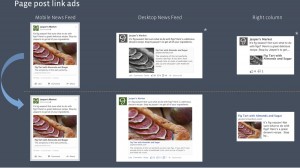 Now… because the news today has been so damn positive I wanted to keep the ball rolling. That news story is over. BUT – I've got a sweet infographic to help you make your ads convert better.

Infographic thanks to eConsultancy