New next-generation tracking software helps you get maximum revenue from your online campaigns, save time and money spent on designers and programmers with an easy to use tracking platform.
As affiliate marketing gets more and more competitive, new tracking solutions come out all the time and every time one of them is more powerful than others. However, there's this powerful tracking software that hit the market and is becoming popular. AdsBridge, new next-gen tracking software, announced BETA launch in December, offers free access to online marketers worldwide.
It is designed to help serious performance marketers – Affiliates, Media buyers,  Advertisers to move their business forward and deliver their traffic from A to B while saving time and money.
Adsbridge is more than a regular tracker as it offers a number of useful services:
a hosted tracker;
a traffic distribution system (TDS);
a landing page builder.
So it's  a FREE solution for serious performance marketers as they are going to be on their beta release at least nearest half a year.
What's special about AdsBridge  and what makes it different from other tracking platforms?
Free to use;
No Traffic Volume Limitations;
Supports multiple users with custom roles;
Sends SMS/email alerts based on custom rules so you don't lose money;
Supports unlimited custom redirect domains;
Live support via skype or on-site chat.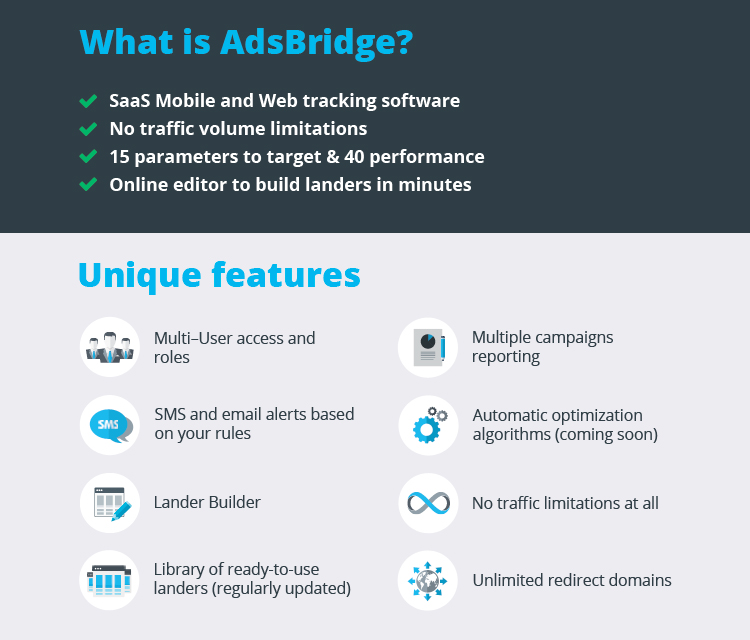 It doesn't matter what your experience is, creating campaigns, landing pages, customizable targeting and testing/optimizing is easy thanks to the intuitive interface and the powerful engine which runs it all. Once you have signed up for AdsBridge, full access to a simple landing page builder, powerful tracking tools and a massive traffic distribution system become available to you.
Let's take a look at the benefits of using AdsBridge.
Here's what can you do with AdsBridge:
Track unlimited mobile and web campaigns in real time
Target and redirect traffic by 15 parameters
Create custom sub ids and pass them to offers automatically
Rotate unlimited offers and landing pages with weighted %
Block your referrer and use redirects to keep your data private
Analyze stats with multi-campaign reports
Group stats by specific date ranges and time zones
Enjoy day and week-parting targeting and reporting
Easily export any stats, capture and manage any lead data
Use our pool of landing page templates for free
Create landing pages in minutes without HTML or CSS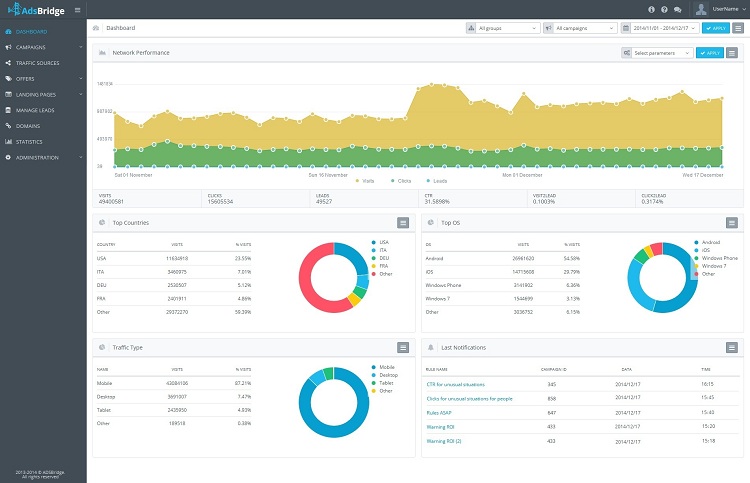 AdsBridge's decision to keep the data and service hosted on their end is also a huge benefit for anyone that doesn't want to deal with the hassles of server setup, software installation and additional monthly fees.
One of the most important features of AdsBridge is the security measures put in place. By hosting the data on tracker's end, you protect it with encryption and remove the risk of server hacks. Having a hosted solution feels like a dream and saves you $500+/month on a dedicated server for self-hosted tracker.
For those unfamiliar with how it works, AdsBridge comprehensive user guide will help anyone create campaigns, landing pages, customize targeting and optimize with this intuitive tool.
For new affiliate marketers, they also provide valuable affiliate marketing tips on their blog.
To try AdsBridge, go to http://www.adsbridge.com and sign up FOR FREE.
About AdsBridge:
AdsBridge was founded in 2012 by a team of experienced media buyers who were looking for a solution that no one seemed to be offering.