Chipotle just may have tried to jump the shark with their recent tweets.  They seem to be desperatly trying to regain (or gain) the appeal of it's younger consumers with a tweet referencing sex and marijuana.
The restaurant chain posted a poll on Twitter on Tuesday afternoon asking "How many burritos?" People were asked to vote between two numbers: 69 or 420.
If you aren't aware, the numbers are popular modern day slang for both a sexual postion/act and the annual "weed" holiday that falls on April 20th or 4/20. The marketing attempt might not have won over the intended crowd but it sure has started a buzz on twitter.
The tweet started going viral Tuesday afternoon, gathering more than 1,700 retweets within a couple hours.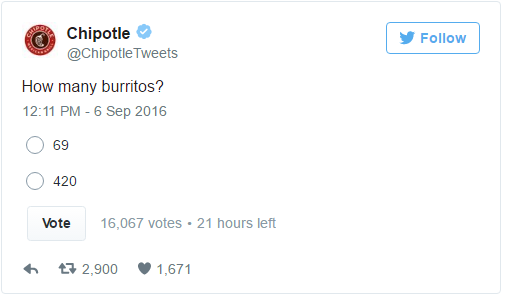 Chipotle has been trying to drive traffic to its restaurants lately with tons of free food offers after it took a nosedive in the wake of an E. coli outbreak that sickened customers in 14 states.
Here are some of the reactions from Twitter: