Adcash is an ad network that prides itself on providing supply and demand on a global scale. In short, they broker a lot of premium campaigns daily: this applies to affiliate campaigns as well.
Alibaba, Facebook, Travelocity and Pocket Gems are just a few of the premium demand sources that use Adcash for affiliates and they're willing to pay for it.
Payouts start at a few cents per install to a percentage of sale that could reach over 100 euros. With Adcash, you can act as a pure affiliate or incorporate the offers as part of a larger strategy.
Accessing those offers is simple, publishers just have to register for a free account and will be able to integrate offers into their properties within minutes…if you know the system.
Become an affiliate with Adcash with a few clicks
Let's take a quick dive to check it out. Once an affiliate creates a publisher account, it starts with a simple click of the Campaigns tab.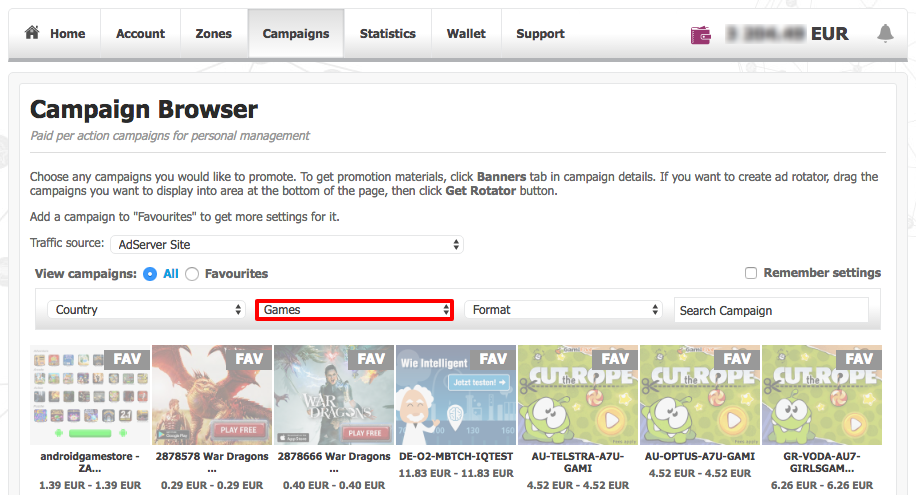 The Campaign Browser immediately opens from the tab, displaying all offers in thumbnail form. The list is extensive and would be difficult to screen capture, so here is just the first offer row of the Games vertical.
The menu can also be filtered according to Country and Format (as pictured above). This comes in handy with a network as large as Adcash. Remember, they're brokering campaigns for 249 countries and regions.
While not scratch and sniff, it's click and explore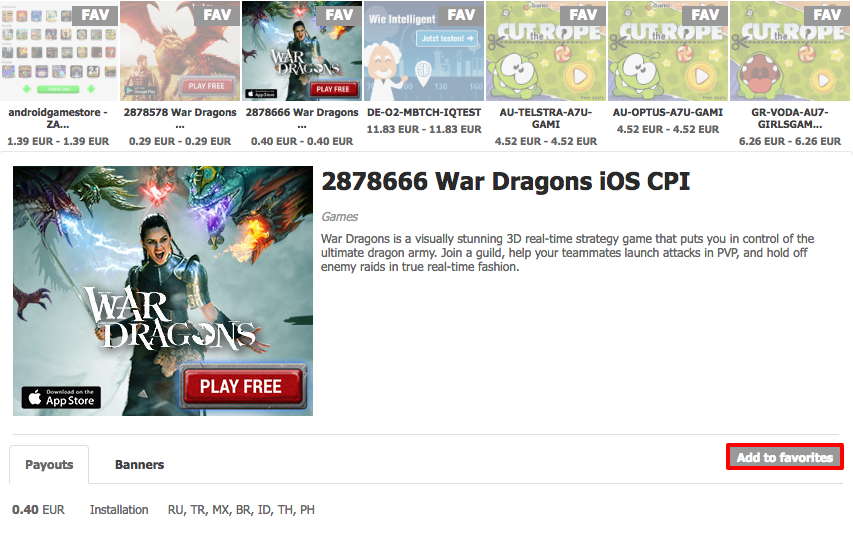 The thumbnail collage that is the offer menu is no accident, it's an efficient way to preview campaign creatives. Like what you see? Click and get a more detailed view of the offer.
Adcash gets right down to business and provides publishers with the detailed payout specifics, as well as a Banners tab for size and language specifics.
Here's where the ambiguity begins. The Adcash affiliate interface is not as intuitive as it could be: there is a lot of "click and explore" to find out where and what information is available.
Find your affiliate offer settings with a little abracadabra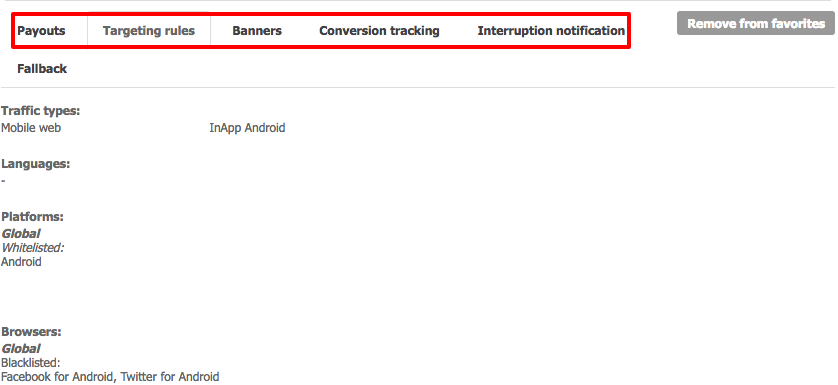 It is unfortunate because Adcash offers a wealth of information and settings for each offer that won't populate until you click Add to favorites.
For example, you have to add the offer to your favorites to get Targeting rules information, as well as Conversion tracking, and Interruption notification settings.
Yes, affiliates are told how to get promotion materials and additional settings information at the top of the page, but it isn't highlighted. While a minor UX detail, it will still prove frustrating for some publishers.
Select your affiliate offer line-up with a rotator and start earning

Saving a few UX quirks, the affiliate offer mechanics are all about efficiency, right down to their rotator. This is important to remember: all systems have learning curves but Adcash is clean.
Adcash appears to understand that, while you want to be rewarded for your work, you have work to get back to. From its menu's thumbnail layout to its rotator, Adcash wants affiliates to start earning now, not later.