Search engine optimization is constantly changing and evolving, making it extremely necessary to stay on top of the latest news to remain successful.   
As we look back at 2016, with its slew of algorithm updates from Google culminating in the release of Penguin 4.0 and the announcement of mobile-index first at the end of the year, no wonder some of us struggled to remain in the game.  That's why it is even more important to take a moment now, at the beginning of the new year, to rethink our SEO strategies for 2017.  
Taking into account Google's recent activity, below are what is believed to be the three most important SEO trends to watch out for in 2017.
#1 Mobile First Index
If it wasn't already obvious enough, a strong emphasis on Mobile Optimization should be every marketer's top priority in 2017, particularly those playing in the SEO realm.  Even if one only based this data on the numerous statistics showing how mobile searches outweigh desktop searches by more than 60%, they would be hard pressed to deny Google's mobile-first index plan.
Up until now, it might have been possible to spend too much time and energy on mobile optimization, however in 2017 it is going to be a necessity for websites to have a spot on mobile presence in order to succeed online.
#2 Structured Markup
Structured data markup (aka schema markup) is a type of microdata that makes it easier for search engines to parse and interpret the information on your web pages more effectively so they can show the most useful information on it, potentially on Google search results. This trend is gaining some leverage with the recent release of Google Home, which relies heavily on answering questions using websites which adopt structured data markup.
Look at the example below: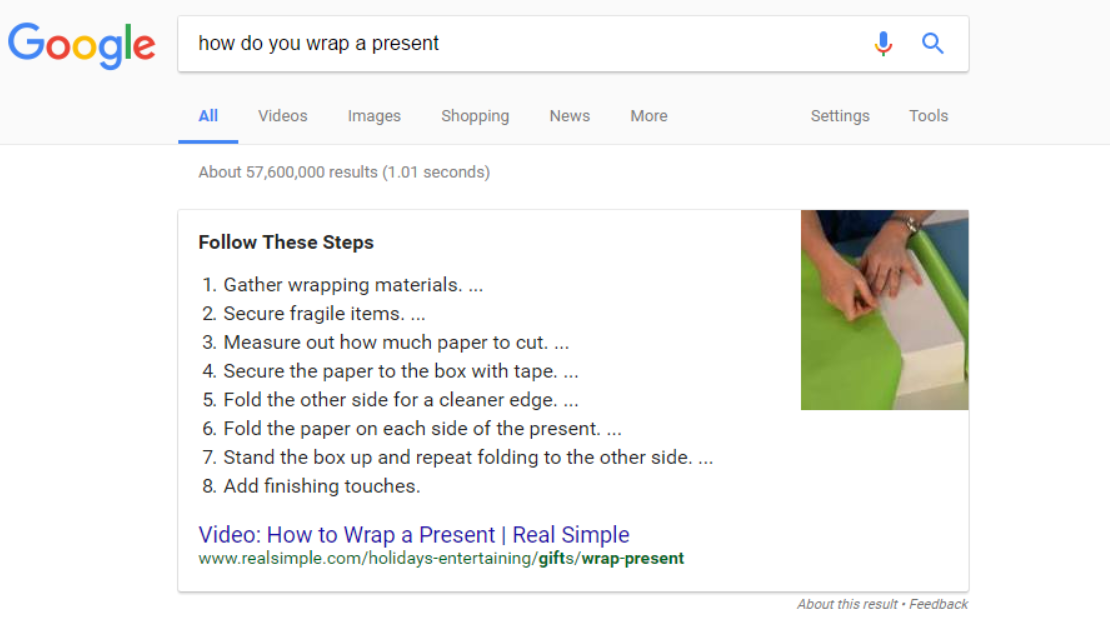 Realsimple.com adopted a schema markup, therefore Google as found information in the article which and displayed it at the top of it's search results.
Think of the process of including schema microdata in your web pages as altering your diet to only eat healthy nutritious foods, exercising regularly and getting a good night's sleep – which is probably 50% or more of all american's new year's resolutions.  Even though marking up your pages with schema can be bit of a pain (just like it is to keep that resolution), 2017 probably won't bode well for you if you don't put in the effort.
#3 Voice Search
We have all seen the numerous commercials for such devices as Amazon Echo and Google Home, not to mention the ever humorous Siri and it's counterpart Google Assistant. The adoption of voice search has steadily been increasing over the past few years. In fact,  Sundar Pichai, Google's CEO has even announced that 20% of all mobile queries are voice searches. This just goes to show you just how important it will become to use schema markup in your webpages.  
So what does this actually mean for SEOs? Optimizing for local SEO, natural language and of course adding in schema markup to your webpages are now more important than ever.  Use a tool like Storybase to help generate natural language keywords to craft semantically relevant content.  Also look into schema markup helpers such as Google's Structured Markup Helper.
On the whole, 2017 should be an exciting year. There were several changes that rocked the boat in 2016 which should most likely continue on into the current year. Therefore, preparing for these trends sooner rather than later will not only help your marketing game, but hopefully keep your website ahead of any major SEO changes Google might throw your way in 2017.