For the majority of us the phrase "bigger is better" has been drilled into our heads like some sort of religious mantra that we must live our lives by.  I'm sure that many of us have fallen victim to this single minded way of thinking. Whether it be in regards to cars, houses, diamonds, boats, and yes those other unmentionable things too..  
A recent research study conducted by GetResponse suggests that bigger is not always better, especially when it comes to our email lists. They are in fact suggesting the exact opposite, "go small or go home."
The email marketing automation platform analyzed nearly two billion emails sent via their very own platform over a two month period and the data is shocking. Their study suggests that users were rewarded with a higher engagement rate on segmented lists containing between 1,000 and 2,499 subscribers. While email lists with more than 1 million subscribers only generate open rates of 8.1% compared to their smaller counterparts which pulled in 31.19%.
Let us drill this down for you.
The study isn't suggesting that you dump your thousands of subscribers that you have worked so hard to obtain, rather, you should segment that big list into smaller more personalized lists of their own. A smaller list enables you to send messages with more finite segmentation, thus creating a slurry of higher open rates.
How to segment your lists?
Geography
This should seem like a no-brainer, but honestly there always seems to a handful of those that I'm coaching that simply overlook this.  You don't want to send Canadians or other subscribers that aren't US based marketing correspondence centered around Thanksgiving, for example. Nor would it be relevant to send a southerner an article discussing the best way to keep warm during the winter.
Age
Just as you most likely speak to a millennial differently than a retiree, it's a good idea to adjust your messaging and offers based on their age.
Gender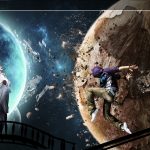 Mars vs Venus. We might not like to admit it, but genders tend to see, feel, and purchase differently than each other. What might be highly appealing to a female, could regrettably not interest a male in the least.
 Past purchases
Anytime I'm setting up a new email automation account, the very first segment that happens is a differential between buyers and non-buyers.  Again, it's common for us already knee deep (or further) in the trenches, but noobies often overlook it.
Interests
This can be accomplished in a variety of ways such as past purchases or even surveys. Go ahead, find out what your subscribers actually want, we promise it isn't going to hurt.
Stage in the Sales Cycle
After analyzing 34 online studies of ecommerce shopping cart abandonment, Bamyard Institute determined that, on average, 68% of shopping carts were abandoned prior to purchase.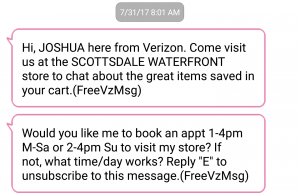 There are tons of automated tools out there that will shoot a potential customer an email if they should happen to abandon their cart, or sometimes even sooner in the sales process. For instance, just this week I was checking out the new Samsung Galaxy S8 via Verizon's website. I really was just looking to see how much I would need upfront to get into a new phone. Of course, I abandoned my cart after I found the desired information and didn't think about it again until I received a text. 
With another follow up text the next day reiterating the previous message.
What about you? What other ways can you think of to segment your email lists? Or which of the above mentioned techniques are you using?  We would love to hear more from you in the comments below.