FTC Defense Attorney Alert:  "Influencer" Actions Make News
The Federal Trade Commission has alerted influencers and those in control of them to three developments, including the FTC's first law enforcement action against individual online influencers for their role in misleading advertising practices.
According to the FTC, the respondents deceptively endorsed the online gambling site CSGO Lotto without disclosing that they owned the company.
Counter-Strike: Global Offensive (also known as CS: GO) is an online, multiplayer, first-person shooter game.  "Skins" are game collectibles that can be bought, sold, or traded for real money. Skins have another use:  They can be used as virtual currency on certain gambling sites, including CSGOLotto.com.  On that site, players could challenge others to a one-on-one coin flip, wagering their pooled skins. In 2015, one of the respondents posted a video touting CSGO Lotto:
"We found this new site called CSGO Lotto, so I'll link it down in the description if you guys want to check it out.  But we were betting on it today and I won a pot of like $69 or something like that so it was a pretty small pot but it was like the coolest feeling ever.  And I ended up like following them on Twitter and stuff and they hit me up.  And they're like talking to me about potentially doing like a skins sponsorship like they'll give me skins to be able to bet on the site and stuff.  And I've been like considering doing it."
The FTC asserts that the respondent followed up with additional videos on his YouTube channel showing him gambling on the CSGO Lotto site.   In addition, the FTC alleges that he tweeted things like "Made $13k in about 5 minutes on CSGO betting.  Absolutely insane" and posted on Instagram "Unreal!!   Won two back to back CSGOLotto games today on stream – $13,000 in total winnings."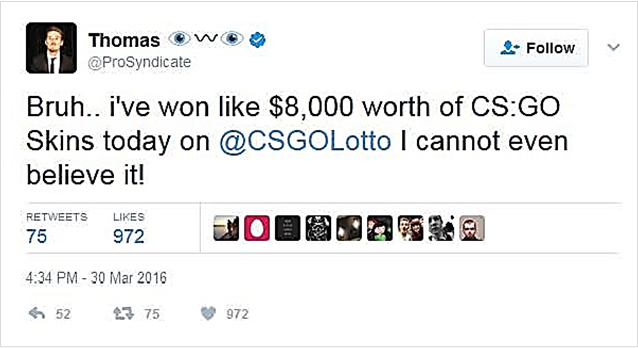 According to the FTC, one of the respondents sell promoted CSGO Lotto in a similar way, posting videos that were viewed more than five million times.  In addition, he allegedly tweeted a screen shot of himself winning a betting pool worth over $2,100 with the caption "Not a bad way to start the day!"  According to another tweet, "I lied . . . I didn't turn $200 into $4,000 on @CSGOLotto. . . I turned it into $6,000!!!!"  The FTC also calls attention to: "Bruh. i've won like $8,000 worth of CS:GO Skins today on @CSGOLotto. I cannot even believe it!"
The FTC alleges that the respondents failed to clearly disclose that they owned the company – a material connection required under FTC law.
The complaint also challenges how the respondents ran their own influencer program for CSGO Lotto.  Allegedly, they paid other gamers between $2,500 and $55,000 in cash or skins "to post in their social media circles about their experiences in using" the gambling site.  However, the contract made clear that those influencers could not make "statements, claims or representations . . . that would impair the name, reputation and goodwill" of CSGO Lotto.  And, according to the Commission, post they did on YouTube, Twitch, Twitter and Facebook – in many instances, touting winnings worth thousands of dollars.
According to the FTC, the respondents falsely claimed that their videos and social media posts – and the videos and posts of the influencers they hired – reflected the independent opinions of impartial users.  The complaint also charges that the respondents failed to disclose the material connection they had to the company – and the connection their paid influencers had.
The proposed settlement requires the respondents to make those disclosures clearly and conspicuously in the future.
WARNING LETTERS
The next interesting development regarding influencers relates to more than 90 educational letters the FTC sent to influencers and brands in April 2017, reminding them that, if influencers are endorsing a brand and have a "material connection" to the marketer, that relationship must be clearly disclosed, unless the connection is already clear from the context of the endorsement.
A number of influencers who received the April 2017 letter just received a follow-up warning letter, citing specific social media posts the FTC staff is concerned might not be in compliance with the FTC's Endorsement Guides.
However, the letters are different this time.  The latest round asks the recipients to let the FTC  know if they have material connections to the brands in the identified social media posts.  If they do, the FTC has requested that the recipients spell out the steps they will be taking to make sure they clearly disclose their material connections to brands and businesses.
UPDATED GUIDANCE FOR INFLUENCERS AND MARKETERS
The FTC has also released an updated version of The FTC's Endorsement Guides: What People are Asking, a staff publication that answers questions about the use of endorsements and disclosures, including in social media.
The principles remain the same, but the updated Guides answer a handful of new questions relevant to influencers and marketers on topics such as tags in pictures, disclosures in Snapchat and Instagram, the use of hashtags, and disclosure tools built into some platforms.
Given the recent regulatory crackdown on influencer campaigns,
This article should be of interest to social media influencers and marketers.  Consult with an experienced FTC defense lawyer for assisting designing and implementing preventative compliance controls, or if you are being threatened with civil litigation or a regulatory investigation.
Follow the author on Twitter.
Richard B. Newman is an Internet marketing compliance and regulatory defense attorney at Hinch Newman LLP focusing on advertising and digital media matters. His practice includes conducting legal compliance reviews of advertising campaigns, representing clients in investigations and enforcement actions brought by the Federal Trade Commission and state Attorneys General, commercial litigation, advising clients on promotional marketing programs, and negotiating and drafting legal agreements.
ADVERTISING MATERIAL. These materials are provided for informational purposes only and are not to be considered legal advice, nor do they create a lawyer-client relationship. No person should act or rely on any information in this article without seeking the advice of an attorney. Information on previous case results does not guarantee a similar future result. Hinch Newman LLP | 40 Wall St., 35thFloor, New York, NY 10005 | (212) 756-8777.