Throughout its relatively short existence, the crypto market has been much more unstable than any other market in history – free flowing, under-regulated and almost incomprehensible to the masses. That's why current crypto startups might be surprising to some people: how can anyone seek success in the sphere where tomorrow is never like today and is even contrary to yesterday?
Well, let's try to analyse the benefits of dealing in crypto on the example of affiliate marketing. To do so, it's necessary to take a quick glance about a year back, when the ICO craze was on its peak. The whole summer of 2017 is known as Hype period when numerous ICOs raised unbelievable sums even without proper product or meticulously crafted landings. Of course, there were some amazing projects: EOS got more than $700 mln, Tezos ended up with more than $232 mln. At the same time, countless startups took advantage of ICO popularity and raised a lot of money on empty ideas and faulty products, which surely took its toll – the enthusiasm started to fade.
That's why in autumn and winter ICOs had to struggle much more to accumulate resources – public trust was shaken and the outlook for the whole sphere was not that clear. Surely enough, it didn't come down only to ICO – any crypto project had to adhere to numerous new restrictions and often endeavour to gain popularity among people opposed to it. Even though the harder times had already come then, marketing-wise the situation was only to worsen.
In 2018, Internet titans started to ban crypto advertising: Google forbids to promote crypto, Facebook ads ICOs to its not-allowed list, with MailChimp and Twitter following suit. Some entrepreneurs wonder: how to advertise crypto? And sensibly close down related verticals.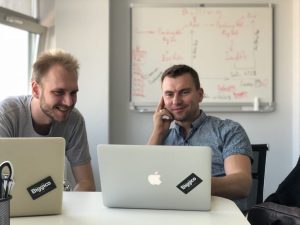 Basically, summarizing this brief overview, we may see one thing: profitable and attractive investment-wise as it is, crypto sphere requires profound understanding and high level of expertise to make heads or tails of it. Interestingly, the status quo is actually beneficial for professional target marketing, giving it unprecedented possibilities. Now is the time affiliate networks come in handy on the crypto market: taking into consideration all the regulations, mastering their way on hugest resources they enable advertisers to spend their budget to maximum avail. In other words, pay-for-result basis guarantees that even in this sporadic sphere changing day-to-day advertisers can efficiently promote their products, resting assured that no restriction is violated and the most relevant traffic is targeted.
At the same time, affiliates are given an opportunity to convert their crypto traffic into real income to the benefit of both sides, the paying and the receiving. Most importantly, we don't just talk about regular affiliate networks – we mean crypto-specific platforms, that study every trend of its volatile field and thus can easily maneuver over latest changes. The point is that crypto holds in itself unbelievable potential, and everyone feels like getting a piece of the pie. However, without proper focus and comprehension, crypto market may easily turn on you, as it doesn't function the same way other markets do. It's still very fruitful ground for those aimed at it specifically, and provides a ripe choice of verticals within – ICO, forex, cloud mining, cybersport, gambling, wallet, exchange etc. To cut it short – the complexity of the sphere both requires full concentration and promises wonderful returns.
As an example of someone taking full advantage of the market in its current condition we can take a look at Biggico – promising crypto affiliate network. The Biggico team only focuses on crypto, but offer a wide variety of verticals to have fun with, from forex and cloud mining to gambling and cyberspot. Being a 2018 newcomer, the platform already has more that 1,5 thousand quality publishers and never holds less than 30 offers outstanding. It seems that with assistance of such type of companies, doing constant research and keeping up with the trends, might be the best if not the only way to safely earn and benefit from so unpredictable a field as crypto.
There is one question that may still arise to the end of this brief overview – shouldn't people just move to another, less volatile sphere? Well, they could, but then only the bravest will skim off the top. And the industry has legions to offer: for instance, there's a post every 3 seconds on social media about Bitcoin alone. As far as the size of Blockchain technology market is concerned, it is projected to grow to over 2 billion U.S. dollars by 2021. Also, BTC market cap is reaching $113 bln.
Now think about it: would you like a piece of this pie? People should not be scared to risk. Even if they are, crypto is way too great a field to simply sit aside and watch. The width and the profundity of the sphere will leave any other market jealous. After all, crypto is not a vertical, it is a whole world.