SMX West 2012 will be held at the San Jose Convention Center February 28 – March 1. Mark your calendars and visit this page frequently for updates.


Planning to attend? Register by December 17th for lowest Super Early Bird rates.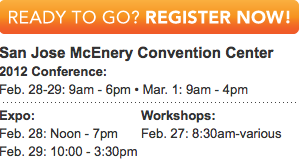 Budgeting? The Register page has all of the rates and pricing milestones you need to know about.
Extend your learning! Check out the in-depth workshops running on February 27th – choose from SEO, AdWords, Facebook marketing, in-house SEO or international search.
Need to convince the boss? Download this helpful document with all the reasons your supervisor should send you to SMX West.
Want to stay up to date? Fill out the form below and we'll notify you when the agenda is up, speakers are chosen and other conference milestones.
Keynote by Google's Susan Wojcicki
Called "the most important Googler you've never heard of" by the San Jose Mercury News, senior VP of advertising Susan Wojcicki is responsible for the design, innovation and engineering of all Google's advertising and measurement platforms including AdWords, AdSense and Google Analytics.
In her SMX West keynote, Susan will discuss the growth of search advertising, integrating search into your overall marketing strategy and provide peek into upcoming Google product releases.
Susan joined Google in 1999 as the company's first marketing manager and worked on the initial marketing programs and branding and then the syndication of Google search to partners. She also led the initial development of several key successful consumer products including Google Images, Google Books and Google Video. She was named one of the Smartest People in Tech, Forbes Most Powerful Women, and Fortune's Most Powerful Women all in 2011.
---
Join Your Colleagues at SMX West
Attend SMX West for the exceptional content, invaluable connections and essential conveniences.
Participate in your choice of more than 60 sessions on search engine optimization (SEO), paid search advertising (PPC), social media marketing, local and mobile search, landing page conversions and more.
Whether you are a beginner or SEM expert, you work at (or with) an agency or manage search marketing in house, SMX West has programming to fit your needs. You'll be satisfied with the experience. We guarantee it!
---
Exceptional Content – Program by Search Engine Land
Search Marketing Expo – SMX West content is so compelling, you'll want to implement what you've learned before leaving the conference. Dramatically increase the number of people who come to your site with ROI enhancing paid search advertising and search engine optimization techniques and best practices.
Personalize your SMX West experience. Attend any of the more than 60 sessions and keynotes that suit your needs and maximize your investment. There are sessions just for you – whether you're new to search or an experienced internet marketer, employed at a Fortune 500 company or run your own business or agency.
SMX West is programmed by the editors of Search Engine Land, the site search marketers trust to deliver decision-informing news and thought-provoking analysis. You'll be satisfied with SMX West. We guarantee it.
SMX West co-chair Danny Sullivan has been writing about search engines and programming search marketing events for a decade. He is renowned for producing quality shows where the information presented is so good that attendees frequently start implementing tips during breaks! Danny is Editor-In-Chief of Search Engine Land, the leading news and analysis blog for search marketing professionals and is a creative force behind SMX.
Conference co-chair Chris Sherman has analyzed and influenced developments in search marketing for more than a decade. He is Executive Editor of Search Engine Land and the creative force behind Search Marketing Expo events around the world, including SMX Advanced London. He is also the author of several books on search marketing and technologies, including "Google Power: Unleash the Full Power of Google," published by McGraw-Hill.
---
Invaluable Connections
We do networking right at SMX West by providing the opportunities and the tools for you to meet new contacts, reconnect with colleagues and continue those invaluable relationships beyond the last conference day. At both structured and social networking events, you'll get to share experiences, challenges and successes with colleagues.
Meet your fellow SMX attendees at birds-of-a-feather lunches, the SMX Meet & Greet and other networking functions at the conference.
The community spirit of participants makes SMX West an event you'll remember – and never want to miss.
Essential Conveniences
Being out of the office means balancing your every-day responsibilities while maximizing your conference time. We get it, and to help you juggle those responsibilities we provide always available and free Wi-Fi in every conference session. Plus you'll never have to hunt down a cup of coffee, snack or a hot lunch – it is all included at SMX West.
And, since you can't be in two (or more) places at once, we upload all of the presentations so you can review sessions you attended and see those you missed.
---
Who Attends SMX West?
Want to know if SMX West is for you? People with the following titles attended SMX events in 2010:
Corporate Management
Chief Marketing Officer
CEO & owner
President
Vice President, Internet Sales & Marketing
Vice President, Business Development
Marketing Management
E-Commerce Manager
Marketing Manager
Brand Manager
Creative Director
Director, Business Analytics
Marketing Staff
Search Engine Optimization (SEO) Specialist
PPC Analyst
Media Planner
Media Buyer
Junior Account Manager
SEM AssociateIT/Web
Executive Director, IT
IT Managers
Webmaster
Web Developer
IT Project Manager
…and hundreds more. Don't miss out. Come to SMX West and see what your peers have been learning.
---
Sponsor/Exhibit at SMX West!
Grow your business by sponsoring or exhibiting at Search Marketing Expo! The SMX audience is made up of senior decision makers involved in buying media, tools and services for their business.
For more information, see the SMX West Marketplace page or contact the SMX sales team.