If you aren't utilizing mobile marketing through the Adwords platform yet…you should be. Some of the most profitable and highest ROI campaigns in the affiliate space these days are mobile-targeted campaigns. Think pay-per-call and mobile relevant offers and landing pages.
One of my favorite strategies for lead generation across nearly all verticals is to drive calls and clicks from mobile targeted ads. One reason is because even today there isn't a huge amount of competition. However, another reason is that most mobile advertising platforms, like Adwords, allow you to target very specifically according to device type and other characteristics.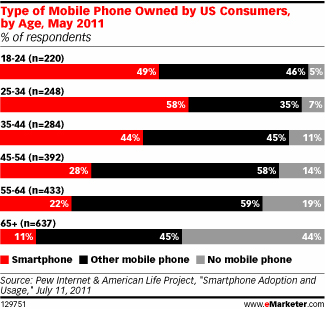 The marketing tip here is to understand that each device typically caters to a certain demographic. In other words, most devices have demographically similar users. This is powerful knowledge and an extra tool in your ad targeting arsenal as compared to non-mobile campaigns.
Think about the likely demographic of a simple feature phone or gophone user vs. the demographic of an iPhone 4S user. Powerful demographic knowledge there and it gets even more detailed when you break down very specific devices.
Understanding the demographic of the users of a specific device or device type will allow you to include or exclude the users of that device seeing your ads. Kind of like cpv targets, or ppc keywords, you can filter out and turn off devices that aren't converting for your offer or turn on a specific device where the users are converting for your ad. Mobile optimization rocks.
Non-mobile campaigns don't give you this added tool for targeting, simply because targeting specific non-mobile devices will normally not give you a demographic that is targeted enough to make a difference in your campaigns. Bummer PeeWee.
With that being said, mobile targeting just got even better and more flexible on the Adwords platform. Google has now given us the tools to target mobile users based on OS version, and whether or not they are connecting from a WiFi connection. This should only serve to further increase the ROI of our mobile campaigns. Score.
We already have the ability with Adwords to target based on the operating platform, but now we have the ability to drill down even further and target based on a platform and version of that particular platform. This kind of targeting is especially relevant to App and software developers, but can also be used more creatively if you think outside the box a bit.
Now we can also target users based on their connection speed. This is extremely powerful because we can now target users that we know have the capability to view higher bandwidth pages which might contain audio, video, etc. We all know that incorporating audio/video, etc. can significantly increase conversions…but it was too much of a risk to incorporate those things in our current landers.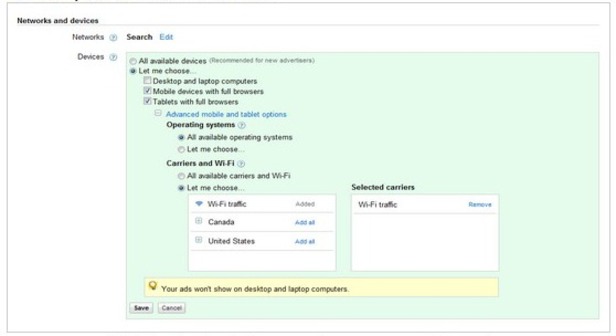 Well, now we can because we can setup a campaign for high-speed connections and a campaign for low-speed connections which will allow us to serve different landing pages to each type of user.
Thus, we can maximize conversions by showing users that can watch a video, a page with video included…yet not lose the low bandwidth users by ensure we still serve them a more stripped down version of the landing page.
You can find these new targeting features in the "campaign settings" menu under the "networks and devices" and "Advanced mobile and tablet options".
Adding these two new tools to the mobile targeting arsenal in Adwords should get you very exited. Happy increased margins!