(On Facebook/PlentyOfFish Style Ads)
The following case study provided by AdChop.com analyzes the effect that images can have on an advertiser's ROI.
These ads were part of a campaign that was run on PlentyOfFish.com to promote a dating website for single parents.  PlentyOfFish offers many ad formats including the "Facebook" format that you see in this case study (110×80 image with a headline & body text).
These ads were targeted to US males age 30+ who had indicated on PlentyOfFish that they have children.
Note: The Conversion Rates (CR) below are "per 1,000 impressions" (not per click).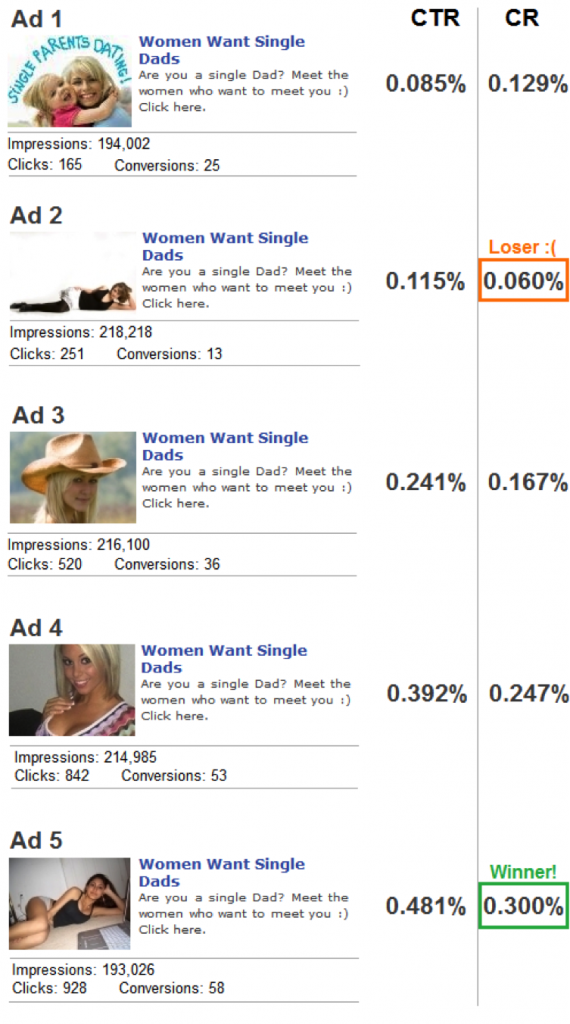 Analysis:
Since the text in each of these ads was identical, it was the image alone that determined the performance differences.  The conversion rate of the top converting ad was exactly 5 times higher than that of the lowest converting ad, and the highest CTR was more than 5 times the lowest CTR.
Interestingly, the lowest CTR ad (Ad 1) was NOT the lowest converting ad per click.  In fact, with 25 conversions from 165 clicks, it had by far the HIGHEST conversion rate per click.
Why did Ad 1 have the highest conversion rate per click?  I presume that it's because the higher CTR ads attracted many clickers who were simply hoping to see a larger version of the attractive woman in the thumbnail.  Not only did Ad 1 not have the " I MUST see a bigger image of that hot babe!" factor, the words "Single Parents Dating" in the image give a more accurate representation of the website they'll be taken to.  People aren't being tricked into clicking on an ad that delivers something other than what they're expecting.
I shouldn't place too much emphasis on the conversion rate PER CLICK, however, because advertisers on PlentyOfFish pay a flat CPM rate rather than a flat CPC rate.  The advertiser's ROI is therefore determined by their conversion rate per 1,000 impressions (not per click)… which is why the conversion rate numbers above were calculated per 1,000 impressions.
Since images can play a major role in how an ad performs it's worth split testing a lot of them, but it's also important not to forget about the ad copy.  In this campaign, the headline "Women Want Single Dads" was used because previous split tests had proved that it was far more effective than the more straightforward "Meet Single Moms".
This article is brought to you by Justin Clark at AdChop.com
Visit AdChop.com to see more case studies from online advertising campaigns.