A website url can tell you a lot. More than you may realize. It's amazing how transparent Internet Marketing is. That transparency is a bit of a double edged sword too.
Let's just say that I'm interested in entering the Pet Insurance market. Before I just hop in with both feet it'll probably be a good idea to see what other sites are doing, right?
So after searching for a few broad phrases like "pet insurance" and "dog health insurance" and "pet health insurance" I see a pattern. There are a few urls showing up consistently organic wise as well as PPC so I jot them down in notepad.
They are:
https://www.petinsurance.com/
http://www.aspcapetinsurance.com/
http://www.gopetplan.com/
http://www.petsbest.com/
http://www.petinsurancereview.com/
First thing I notice is that they all have above the fold offers on the home page. They're either capturing name and email or simply getting you to enter a zip to get a quote. That goes in the note pad too.
Next thing I notice is that while they are all targeting "pet insurance" they all have dogs as the main image on the home page. So while you may have a cat, a lizard, or a fish as a pet the main market is most likely dog owners. That's not a fact yet, that's just speculation. 5 out of 5 of those urls are showing dogs so that's a pretty good educated guess.
One more observational note – these top sites (except 1) are providers or resellers of some kind. 1 site is an affiliate.
Now it's time to utilize a spy tool to check out their PPC spend and SEO efforts. There are several out there and many of them very very good. For today's post I'm going to be using Keywordspy.com. No affiliation or real preference for this tool it's the one I've been using lately.
Other great spy tools include semrush.com, and spyfu.com
Keyword spy is revealing some very interesting things. I can see at a glance each sites adspend, their ads, how long those ads have been running, and their sites organic rankings. It really is a treasure trove of data!
Check out the affiliate site's adspend below. Notice it's spiking in May. The other sites had similar trends.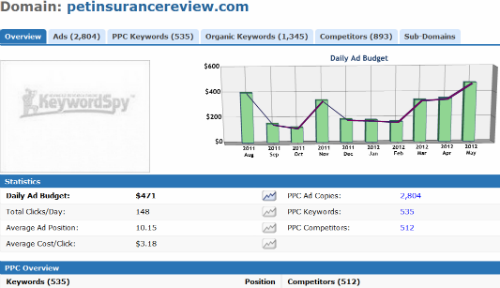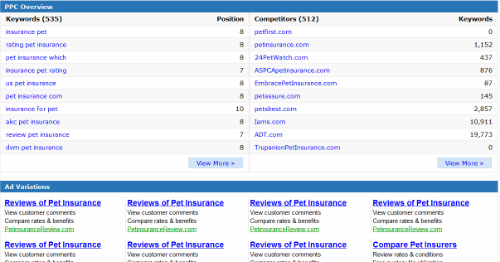 Out of curiosity I'm going to check out the affiliate's SEO credentials. Are they new? What kind of backlink count are we looking at to compete for big phrases in this market? Answering those questions will give us a feel for the market.
Market Samurai helped me answer those questions. And the answers are pretty scary! They're very well established. There's no way we're sneaking in there anytime this decade 🙂 At least not for broad phrases. Data driven decisions are the best decisions.

One of my favorite Keywordspy aspects is that you can export all PPC keywords and all organic keywords that url is going after. Then you can take those two sets of data and find the keywords that overlap. These are the keywords that the site owner is ranking for organically as well as buying PPC traffic for. These are the GOLD keywords. Chances are these overlapping keywords convert the best.
A keyword phrase for the affiliate pet insurance site that overlaps is "pet insurance reviews" (also their domain name, basically). When you review that keyword in MSamurai it's much more possible to rank for.

If you're really into the SEO game this should have just turned a light bulb on. If not, sorry about your luck! Besides this isn't just about SEO…
One more stop on our tour de reverse engineering.
I want to check out the banner ads these sites are using. This will give me insight into their hooks, their angle for connecting with the market. So I stop on over at www.moat.com
After running a few variations of brand names and urls I didn't come up with much for banners. Sometimes you have better luck on moat than others. It has proven to be an invaluable resource in the past for me. If you want to see examples from this site check out the banner design tips post I did a week or two ago.
If moat doesn't work you can use compete.com – They will show you where these sites are getting all of their traffic from. An absolute goldmine of data. It's pricey but you'll know absolutely everything there is to know about a competitor.
So after all of this spying what did I come up with? Here's what was in my notepad
Top Players

https://www.petinsurance.com/
http://www.aspcapetinsurance.com/
http://www.gopetplan.com/
http://www.petsbest.com/
http://www.petinsurancereview.com/

All sites using the "Get a Quote" lead capture or involvement device
All sites showing dogs on home page (Dog owners may be the largest niche within the market)
One organic affiliate that's very prominent

Very established SEO-wise – cannot compete on broad market phRases
Advertises consistently through PPC
Has many reviews of pet insurance companies, appears very unbiased.
Overlapping keywords include pet insurance reviews (usually make a list of as many as I can find. Repeat this with the other main urls and cross reference for superior data – PURE GOLD)

May appears to be the busy time of year for this niche
All major PPC keywords, Ads, and amount of time they've been running
All major organic keywords and positions they rank for.
There you have it. An initial look at a market I might want to enter. In only a few minutes time I've deconstructed just about everything these sites are doing with two exceptions (banner ads and uncovering all traffic sources).
Now that I have this data it's time to make some decisions. I can either test the waters with paid traffic and target niches within this market, or I could create an SEO presence and target the gold overlapping keywords. But that is a conversation for another blog post.
Have any Questions? Let us know in the comments below