It's been said before and it'll be said many times again. The two most important factors in your success online come down to traffic and conversions. Improve both and you improve your bank account.
Here's another secret… The real affiliate ninja's online focus on conversion.
Traffic is everywhere. It can be bought and sold a million times per day. If traffic is your problem you're not trying hard enough.
Conversion is the real trick. Converting visitors to leads or sales is where the money is. The only way to do that is to tweak and test. Today we're going to take a look at many different ways the pros are doing this.
Start Off Simple
1. A/B split tests – the most basic test you can run. This is where you evenly rotate version A versus version B. You could simply test headlines or entire web pages.
2. Use Live Chat – Few tools tell you anything about your "non-customers"—that is, the visitors who arrived at your site but then left for whatever reason. You rarely get feedback from these people. They are unlikely to call you, but you might just persuade them to use a Live Chat feature.
source
3 Add a Human Touch – Boost your website's conversion rate by using human faces. They get your prospects to focus more and this causes them to draw towards a common point of interest. It doesn't get more real than that.
source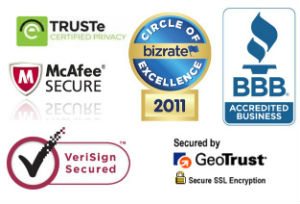 4. Build Trust – The web is a wild place – you need to build trust with your users. This can be done with about pages, money back guarantees, secure credit card transaction information, showing your phone number, and more.
source
5. Test Colors – Test various colors for your calls to action or even your site layout.
Kick It Up A Notch
6. Web analytics – At the most basic level, the "Site Overlay" feature tells you where visitors to your site click, where they don't click, and where they are when they leave your site.
A/B testing 101: A quick-start guide to conversion rate optimization
7. Clickmapping – A Clickmap is sort of like a heat map of clicks. It shows you exactly where people are clicking on your web page. Tools you could use are:
http://www.crazyegg.com
http://www.clicktale.com
8. Swipe Direct Response Copy – The direct response industry has been around for a long time. Ethically swipe an angle, a headline, or even an image to test on your site. There are millions of magazines and resources with old ads available.
Here's a great list of Direct Response Copy tips.
This one in particular is put to good use in today's advertising
STARTLE… logically. You must attract attention for your ad to succeed. But the way you attract attention must evolve logically from the product/service and must be based on knowledge of the prospect.
Bring Out the Big Guns
9. Multivariate Test – This is like a/b testing on steroids. This allows you to test multiple aspects of your page at one time. It speeds up the process getting you to a winning version much faster than traditional a/b tests will. This is a major tool in the pros tool kit.
10. Usability testing – You can carry out this testing on pretty much anyone you can get your hands on. These tests are gold dust—literally.
source
Have any tools or ninja tips you use to increase conversions?  Let's talk about it in the comments!