Its crucial that at least for performance / direct response based marketing, that you adequately and thoroughly manage your overall click to conversion rates and EPC. Oftentimes, advertisers and networks have a tendency to get frustrated when there are substantial clicks within a certain time period but the actual conversion rate of the CPA paying campaign is minimal. In many cases, normally I would shut off all campaigns that retain an average EPC of less than at least $.05 per click. In these cases, several revenue generating opportunities could and do exist. Here are a few tips to ensure that you are maximizing your revenue and overall ECPM by taking advantage of all of the monetization options around the click.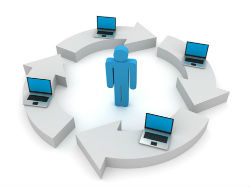 1. International redirects
a. Always look up the geo's and country IP's of the primary traffic and do a look up by top 20 geos. Im sure you'll be surprised to learn that in many cases and even unintentionally, International traffic is delivered a domestic (Tier 1) campaign. In this case, you will want to have a proper click redirect solution in place. The proper solution should geo-rotate to appropriate campaign to match the region of which geo's the traffic is being referred from. This of course, ensures you are monetizing all geo clicks coming in to a geo targeted campaign
2. Unresolved or error pages
a. In many cases, many geo targeted campaigns also maintain IP filters and frequency caps. These parameters are placed within campaigns (particularly characteristic of download campaigns), to essentially protect from fraud (IP and script fraud). On unresolved or error pages, you will always want to be prepared to automatically show a redirect offer which is comparable in conversion method as well as payout to the original, source campaign. This solution should start to lift revenue immediately
3. Mobile optimizing campaigns
a. These days, when I take a snapshot of the traffic types that are hitting our current download campaigns, at least 20-30% of total traffic is now being referred by Smartphone and mobile devices. What this means then is that if your campaigns are not designed to be Smartphone browser / mobile optimized, then will not resolve correctly when being accessed by mobile devices. Hence, there is a loss of conversion. Many modern day tracking solutions (i.e. Linktrust) now offer an option to turn on a mobile setting. This setting enables campaigns to automatically revert to mobile optimized pages, when mobile devices try to access them.
I hope that you can apply some of these tactics and principles, presuming you haven't already. It is a direct result of implementing these variables, that Guppy has a seen a significant lift in overall ECPM's, based on the same click volume being delivered. It is important to ensure that you are monetizing your redirected clicks in with all facets possible.
Sam Sim:
CoFounder
Guppy Games | Guppy Media
sam@guppymedia.com
GuppyGo!
PayPerInstall Network
www.guppygo.com
About Sam Sim:
As CoFounder of Guppy Games | Guppy Media, Sam is an industry veteran with over ten years in Interactive and direct response advertising, SEM, social and mobile advertising.
About Guppy Media :
Guppy Media,the Media division of Guppy Games, located in Bellevue, WA, is an established and global interactive performance advertising network with over thousands direct Web publisher relationships as well as thousands of direct advertising and client relationships. Guppy Media maintains international publishing channels with presence in US, EU, Latin America, EU, Asia Pacific. With its unique tracking and targeting technology, Guppy is able to provide proven metrics and measurable and targeted results for its clients within the Gaming, Mobile and Entertainment sector. Contact Guppy Media 425-450-9494 or sales@guppymedia.com