Pinterest has launched their very own Pinterest web analytics tool. It'll allow you to track each and every pin and like users have with your content. Finally you'll be able to tell how cool Pinterest users think your content is.
How pinteresting indeed Pinterest. Here's a screenshot of what the analytics system looks like.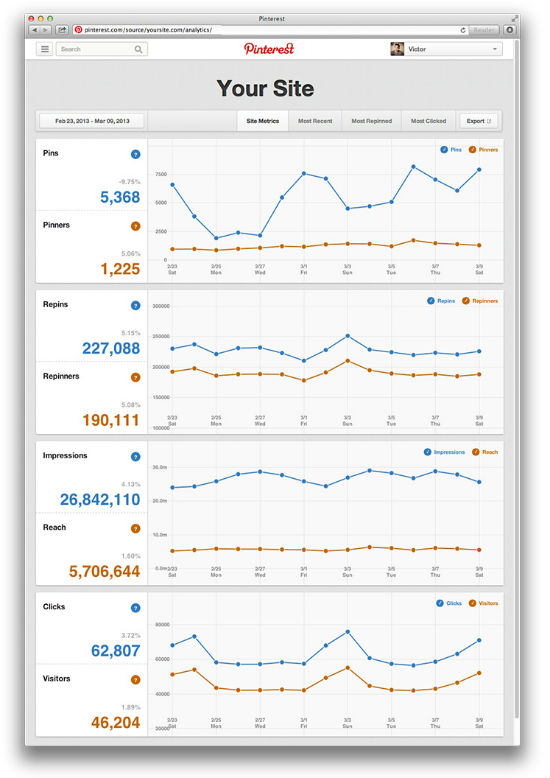 If you want to get access you'll have to jump through a couple of hoops first.
1. Get early access to Pinterest's new look.
2. Make sure you have a verified website. If you have a website listed on your profile with a check mark next to it, you're verified. If not, follow these steps to verify.
3. Once your website is verified, go to the top right menu and click on Analytics.
Some are saying that this analytics launch is simply a step toward monetization for the image based social network:
The analytics tool is an early stage effort to monetize the content-based micro social networking service. Pinterest's blog post even hints at a rapid expansion of this sort of service: "Over the coming months, we hope to add new tools and more detailed insights, so let us know what else you would like to see."
source
The announcement has made waves already. Amongst the speculation of monetization has also been a major hurdle for an existing Pinterest based analytics company. Formerly known as Pinfluenzer they have rebranded and are now called Piqora.
Piqora owner Sharad Verma had this to say about the name change:
Though Verma insists that the name change isn't a departure from its core offering as a Pinterest-centric tool, the new name and new product indicates Verma's continued efforts to broaden his company's offerings.
source
Whether Pinterest is on the move toward monetization or not – we all get the benefit of analytics. Finally you'll be able to see exactly what people appreciate about your content from a Pinterest perspective.