Amazon wants to deliver stuff with drones. That was the big story a couple of days ago. It was the story and viral video heard around the world. The number of links built to amazon and their Youtube video is most likely in the millions (as unconfirmed as that may be).
If you haven't seen the video check it out below. It's short and essential to the message we're sharing today.
That video has over 8.3 million views at the time this post was written. Pretty impressive, eh?
How long did it take before you realized this whole thing was a brilliant marketing play?
I'll admit it. My inner tech nerd took over and the awe inspiring thought of getting my Amazon package in 1 to 2 days via drone took me over. Just imagine it. Imagine hearing a faint buzz of the drone chopper blades outside your window. When you run and open the door you catch a peak of the drone just as it's taking off back to HQ. And now your brand new thing-a-ma-jig is sitting on the sidewalk waiting for you to open it up.
Pretty wild stuff. The future is now kind of stuff. In fact it's so cool… so watercooler worthy… you'll never forget which company is leading the way. Amazon.
What's even more impressive is that the drone service isn't real. It's not available and we have absolutely NO IDEA when we might get to see it in action. Could be a year from now, could be ten, or it could be NEVER.
The point is – we're all talking about Amazon. And guess what…the gift giving season is just a couple of weeks away. Who are you going to think of when you need to buy some gifts this season?
Derek Halpern of SocialTriggers.com said it best in a recent Facebook post.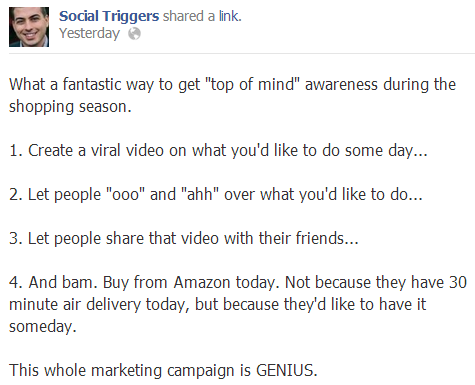 Top of mind awareness. In case you're not familiar with the concept. Wikipedia describes it like this:
Top-of-mind awareness (TOMA) is a brand or specific product coming first in customers' minds when thinking of a particular industry.
http://en.wikipedia.org/wiki/Top_of_mind
That's exactly what Amazon just accomplished with this brilliant new ad. The same could be done (on smaller scale) with websites too. Imagine having top of mind awareness for your niche site about dogs? Or your local bakery? It's all about the story you create.
Here are a couple of ideas on how to create TOMA
Retargeting – What reminds you of a website or brand more than constantly seeing their banner ads everywhere you go!?

Forum & Group Activity – Staying in the conversation is another great way to stay top of mind.  Having your signature link visible in every forum and group available to your niche makes you impossible to ignore.  You'll drive traffic and you'll be remembered.
Viral Campaigns – The holy grail.  This is what Amazon did.  You can do this too.  All it takes is one good idea to create more traffic than you ever imagined.  You may not hit it on your first try.  That's ok.  Keep trying.
Conclusion
So there you have it. You don't have to create top of the line television commercials to create awareness. Get creative. Start a white board brainstorming session to come up with some ideas that will connect with your niche. Try a couple of different campaigns to test different messages. Make your URL what everyone thinks of when they think of your niche.
What did you think of Amazon's new ad? Could you see through it for what it really was? Let us know in the comments below.