Betting, Casino, CPA, Gambling
Mostbet Partners is the official affiliate program of the betting and iGaming company – Mostbet. The program was launched back in 2016. Since then, a few thousand partners have brought over 15,000,000 players from all around the world.
Mostbet focuses on online gambling and betting on sports/eSports. Two pricing models are available: CPA and RevShare. Traffic is accepted from more than 50 countries.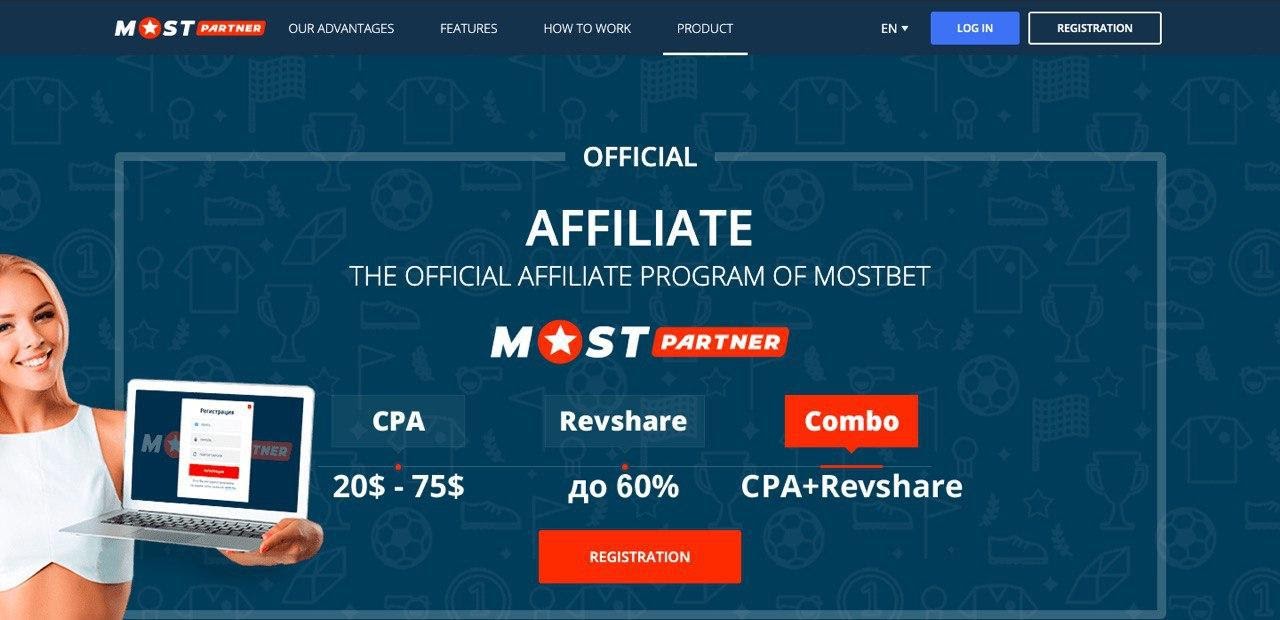 Registering on the platform and getting started
To sign up on Mostbet Partners, you'll need to fill in the registration form and verify your account. There's no additional approval procedure required to start working.  
On your personal account page, you will find the following sections: Dashboard, Statistics, Streams, Promo, Billing, etc.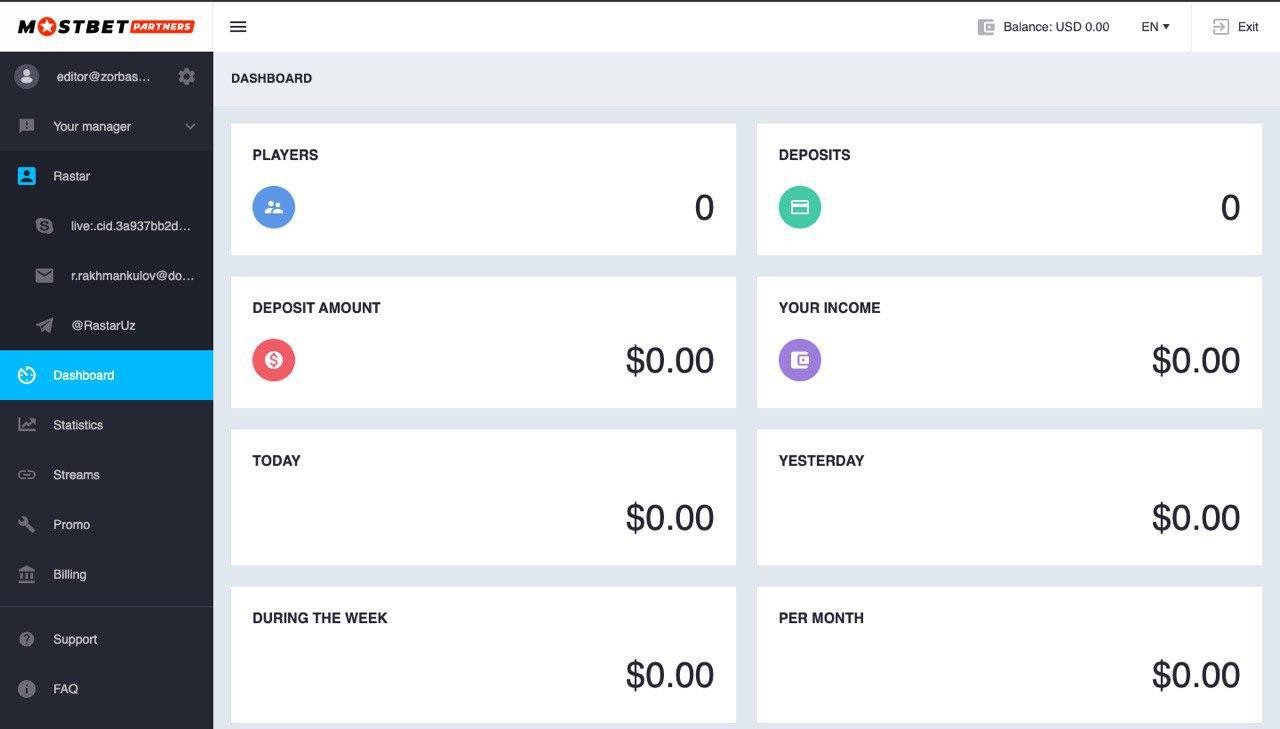 Offers
The program's main offers are an online casino and also sports and eSports betting from Mostbet. Available pricing models include CPA (for approved FTD) and RevShare. The payouts reach up to $75 on CPA and 60% on RevShare.  
Mostbet has both betting and gambling products and offers a separate sales funnel for attracting new players to a casino and driving traffic from a betting platform to an iGaming product. The Mostbet team will provide you with tried-and-true campaign strategies and promo materials to ensure a decent conversion rate. 
User retention deserves separate consideration. Each registered user will receive push notifications, emails, and even phone calls offering bonuses, free spins, and other special deals. This is done to ensure that the user makes a deposit. Once the deposit is made, users are encouraged to start playing and join the loyalty program.  
Mostbet's loyalty program was designed to attract new users and make them spend more, as well as to maintain the loyalty of old customers. Mostbet Casino also has an internal currency called coins. The more coins you earn, the more bonuses you will get while playing in a casino and the higher your level is. In its turn, your level in the loyalty program affects the exchange rate at which you can convert coins into real money. Webmasters only benefit from Mostbet's loyalty program because the more the user spends, the more the webmaster will earn. 
Promo materials
In the "Promo" section, you will find banners and pre-landers that you can use in your ad campaigns.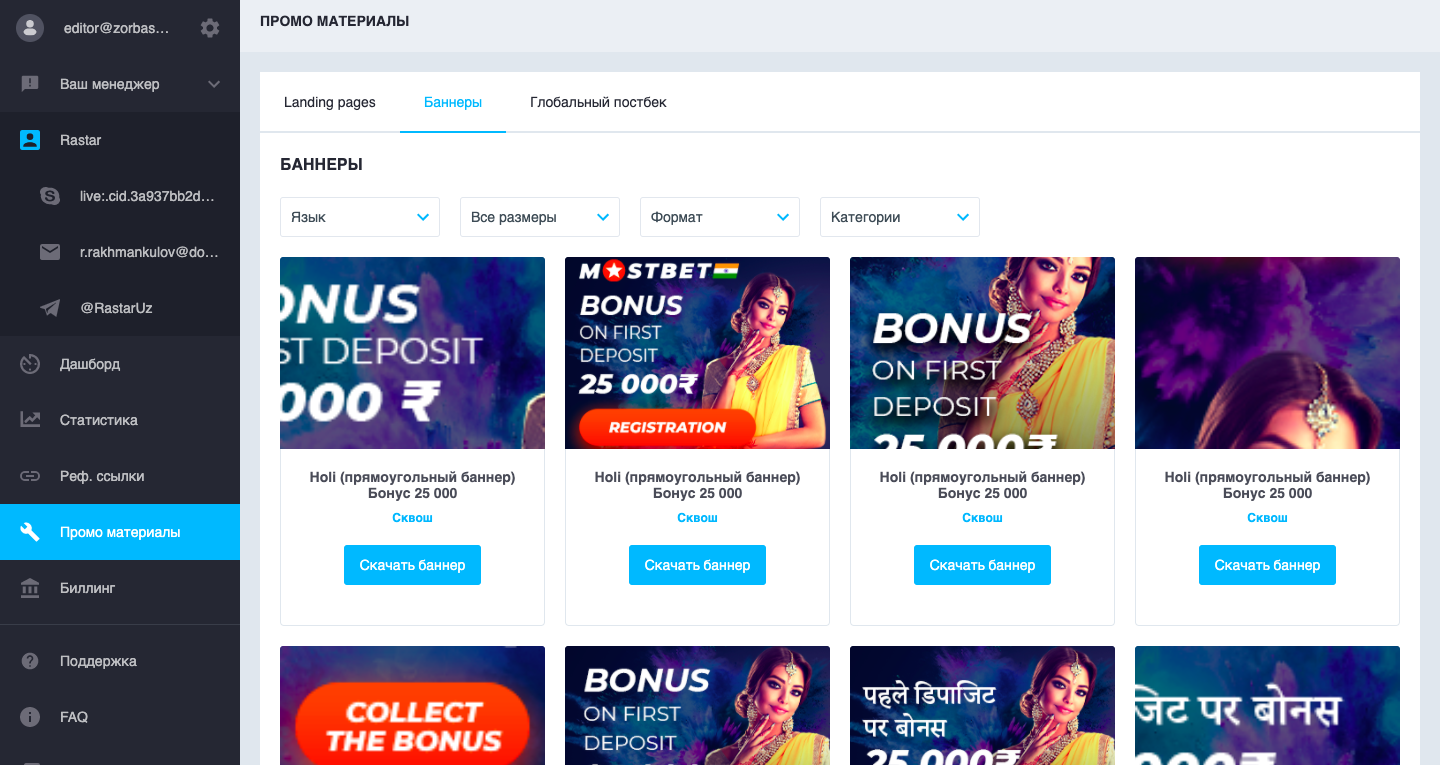 Promotional materials have been translated into a variety of languages. Some of them are designed to bring new users to the betting platform, while others have been tailor-made for specific events (the return of the English Premier League was the most discussed sports news at the time of writing this article). Over the years, the Mostbet team has developed approaches and strategies that help to attract and convert players using special deals, bonuses, and tournaments.
As has been already mentioned, webmasters can access a vast pool of promo materials ranging from website banners to iOS and Android apps, personal bonuses for attracted players, and demo accounts for making creatives.
The Mostbet team also regularly posts new promo materials in a chat on Telegram.
Accepted traffic and stats
The key GEOs for Mostbet are Russia, Uzbekistan, Azerbaijan, Ukraine, India, Turkey, Spain, Brazil, and the CIS. The most favorable terms and conditions are now available for those who promote offers in Azerbaijan, Uzbekistan, and India. 
Mostbet accepts almost all traffic types, but affiliates are asked to comply with the following restrictions: fraudulent and motivated traffic, as well as creatives featuring politicians, officials, celebrities, bloggers, and religious figures. 
GEO

Basic rate

Baseline

RU — Russia

25

10

UA — Ukraine

20

10

AZ — Azerbaijan

35

1

UZ — Uzbekistan

20

1

KZ — Kazakhstan

25

1

ES — Spain

25

1

BY — Belarus

20

1

KG — Киргизия

20

1

AM — Armenia

20

1

MD — Moldova

20

1

TR — Turkey

50

1

IN — India

25

1

BR — Brazil

50

1

IT — Italy

25

1

*

Exclusive terms are discussed after the webmaster drives traffic for two weeks and generates up from 20 FDs in a specific GEO
The bid is the same for all affiliates if you work on standard CPA. In two out of three cases Mostbet Partners will provide affiliates with personal terms and conditions that are better than the basic ones. The only requirement is that the user makes a baseline deposit within 28 days after registration. Traffic quality check takes about 3-4 days. The quality is assessed based on user activity. After the check, you'll be eligible to get exclusive terms.  
In the "Statistics" section, partners can monitor the performance of their campaigns and analyze user behavior. To help webmasters see the full picture for all data slices, the program shares the following information with its partners: 
FD = First Deposit — the total number of first deposits. 

Average FD — the average amount of the first deposit. 

Total FD — the total amount of first deposits. 

FD hold — the number of first deposits on hold (this parameter is only used for the CPA model). 

FD hold — the number of approved first deposits (this parameter is only used for the CPA model). 

Number of players — the number of people who placed at least one bet on a given day. 

RD = Return Deposit — the total number of return deposits. 

Unique RD — the number of people who made at least one return deposit on a given day. 

Average RD — the average amount of a return deposit. 

Total RD — the total amount of return deposits. 

Deposit amount — the average amount of first and return deposits. 

Bet amount — the average amount of betted money. 

ARPPU = Average Revenue Per Paying User — the average revenue per player who has made at least one deposit. 
On domain bans
Since gambling is barred from some GEOs where Mostbet has established its presence, mirror domains and domain redirects are used to run traffic. Mirrors and domains are regularly banned by local authorities. This is why Mostbet has developed a bot that instantly detects if one of the domains used by a webmaster has been blocked and immediately sends a new address to replace the banned one. A lot of affiliate programs post endless lists of new domains that are immediately blocked. Mostbet's bot tracks only those domains that a webmaster works with.
Payouts and a dedicated manager
Once the registration process is complete, a partner gets a dedicated manager who is available 24/7 to help you with any issues and questions. A partner can request a payment through their manager.
The minimum payout sum is $50. There is no hold period for those who work on RevShare. The hold period for partners who work on CPA is 1-2 days.
Payouts are available through WebMoney, Paxum, Qiwi, Visa/MasterCard/Maestro, wire transfer, Capitalist, Neteller, Skrill, Yandex.Money.
Conclusion
Mostbet is one of the most famous products in the betting and iGaming verticals that provides its partners with an opportunity to monetize their traffic. Mostbet offers can be promoted in GEOs where the audience hasn't been burnt out yet and is willing to play in casinos and place bets on sports. A hold period of two days for CPA partners and no hold period whatsoever for those who work on RevShare will enable you to maintain stable cash flow.
Regular contests from Mostbet are another advantage of this affiliate program. It's always nice to make money on traffic and win a laptop on top of that. You can get the information about new competitions from your affiliate manager. 
Sign up on Mostbet and start earning money right now.