ClickAdilla is a self-serve advertising network with multiple ad formats. It has exclusive payment model, 11 replenishment methods and premium traffic sources for all verticals.
In today's review, we will analyze ClickAdilla, an advertising network with 13 ad formats. It will be interesting to those who advertise in interstitial, push, popunder, banner, preroll formats and others. Let's go!
Features of the ClickAdilla ad network
Self-serve platform — campaigns are created, optimized and implemented by you personally;

There are 13 advertising formats available;

13 ways to top up;

4 payment models;

Type of traffic — adult and mainstream;

There is an RTB;

A lot of pop traffic.
Formats in the ClickAdilla advertising network
ClickAdilla is a multi-format ad network. It offers 13 advertising formats:
Popunder

Interstitial

Banners

In-app

Web-push

In-page push

In-stream

Out-stream

Video slider — video in the lower right corner of the page

Notification Widget

Native

Tab-direct Link

Gallery
There are no prohibited verticals in the network. You can promote both utilities and adult offers. 
In the Traffic Chart tab, you will see traffic volumes for each format, device and country.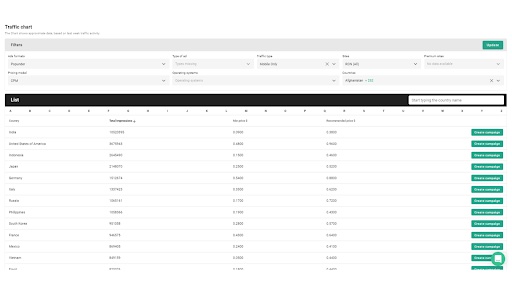 Traffic Chart in ClickAdilla
How to top up the balance in the advertising network
The minimum deposit is $50. You can top up your balance by the following payment methods:
Bank cards;

Wire transfer;

Paxum;

Bitcoin;

Capitalist;

Robokassa;

Stripe;

Qiwi;

Cryptocurrencies via Coinbase;

Payeer;

USDT TRC-20 and ERC-20.
ClickAdilla has implemented a system of protection against balance loss. There is a reserve on popunder, but it is insignificant. The largest amount is reserved for push notifications, where some traffic flow arrives after the main clicks. The reserved amount depends on the target, bid and CTR settings.
We've got a comment from an affiliate marketer: "If you want to run a campaign for $50 every day, then your balance should be at least $500". He also noted that the reserve is not always returned quickly. It can return within a couple of hours or within 24 hours after the impression.
How to launch a campaign in ClickAdilla
There are four payment models in the network: CPA, CPC, CPM and CPM Goal. 
What is CPM Goal: you specify the desired conversion cost, and the system itself optimizes the campaign so that the cost of the lead goes exactly to the price that you specified. At the same time, you pay for impressions. 
This payment model is suitable only for those verticals where conversions come frequently, in other words, verticals with a simple flow. Nutra offers won't fit under CPM Goal. 
The network's target settings are:
GEO — country and region;

Device type, brand and version;

Browser and its version;

Browser language;

In push — the freshness of subscriptions and the frequency of impressions (up to 48 times a day);

IP ranges;

Connection type and provider.

You also choose the type of traffic — RON or Premium. 
Premium sites from ClickAdilla traffic sources are at the top of Alexa Rating. You can choose both all sites of the "Premium" category or only specific sources.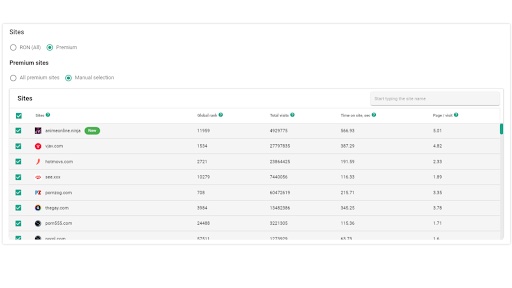 ClickAdilla has adult and mainstream traffic. You can choose categories both in adult and mainstream: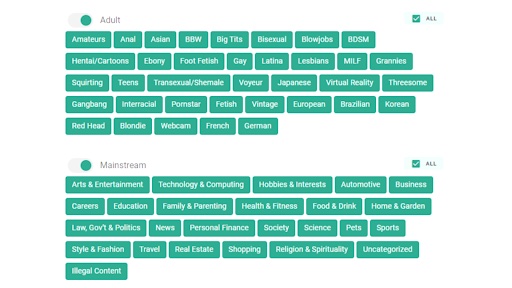 Choosing a site category in adult and mainstream traffic
If you run a campaign in crypto vertical, ClickAdilla has a special filter for you — crypto interest.
In addition, there is also a target setting as "traffic quality": 
All — not very "active" traffic, CTR is relatively low;

Medium — traffic with average activity;

High is the most active traffic, as a rule, CTR is very high on this type of traffic. 

As in any network, when you set up a campaign, you see the approximate amount of traffic that you will receive with certain targeting and bid settings. 
The interface is available in five languages: English, Russian, Spanish, German, Japanese.
Managers can give recommendations on setting up black and white lists. 
How to contact ClickAdilla manager
There are two types of support in the network: a general support in a live chat on the website and an account manager who can be contacted via Skype, Telegram or email. 
Support in live chat responds 24/7, account managers – during business hours. Account managers respond within 15 minutes, up to an hour.
Referral program 
ClickAdilla has a referral system. You get 5% of the expenses of advertisers who have registered via your referral link. 
Publishers: how to connect a website to the grid
The grid accepts any sites. There are no requirements for the number of visitors per day. The site will display creatives of the following verticals:
Dating;

Gambling & Betting;

Adult;

Games;

Nutra;

Sweepstakes;

Utilities.

Resources with illegal topics are not suitable. Link for registration of publishers — https://publishers.clickadilla.com /. The minimum withdrawal amount is $50.  
You cannot monetize your own push base. 
We like the fact that in ClickAdilla there are many ways to replenish your balance, premium traffic sources are in the top Alexa Rating, and publishers have a low minimum for withdrawal – only $50. The push traffic campaigns have a system of reserving funds. It assumes that you need to deposit more funds to the balance of the x2-x10 more than you are going to spend daily.
Join ClickAdilla's social networks and read their blog.
ClickAdilla's blog 

Instagram profile;

Facebook official page;

Video guides on YouTube;

Twitter profile.

LinkedIn profile;

Clickadilla Vkontakte.  
Do not miss ClickAdilla's Harvest Season Giveaway 2022!

ClickAdilla is launching a crazy giveaway with $15,000 in prizes and 55 winners. Get money and amazing gifts for the coming winter!
There is a huge number of prizes for you:
50 money bonuses ranging from $100 to $1000

MacBook Pro M2

Play Station 5

iPhone 14 Pro

Apple Watch 8

AirPods Pro 2
All you need to do is: 
Register in the

Telegram bot

as a participant;

Top up from

$200;

Spend from

$100

on advertising campaigns;
The network recommends running ads in our top formats: In-page, In-stream, Popunder, Interstitial, Banner;
The contest period: 09/01/2022 – 12/01/2022
Read all the conditions of the contest in Clickadilla's Telegram bot ⬆️