Bookmaker 1xBet is one of the most recognizable brands in the gambling industry and its affiliate program, called 1xPartners, offers great earning conditions for business owners and other individuals.   
Here's why you should Join the 1xBet Affiliate Program
Partnering with a well-known brand
1xBet is a brand with over 15 years of industry experience and has long earned the trust of players and partners alike. Its status as one of the global market leaders is confirmed by large-scale sponsorship contracts with renowned football clubs and organizations. These include Barcelona FC, FC Paris Saint-Germain, FC LOSC Lille and Serie A.
A quick summary of the main advantages of 1xPartners
Becoming a 1xBet partner comes with a wide list of benefits. First of all, a lifetime commission of up to 40% on each player you refer. And if you're not in it for the money, collaboration with a leading global betting product should get your attention. Working with a reputable and trustworthy bookmaker can bring countless opportunities. 
The list of benefits from becoming a 1xPartner continues with:
High conversion rates thanks to the innovative product

Weekly automatic payments

Commission is calculated on all the 1xBet products

Custom bonuses and promo codes for your referrals

Around 200 payment methods to receive your commission

Access to a wide range of top-quality promotional materials and other helpful resources

A custom-tailored approach for each partner to make the most of their referral capabilities

Joining a network of over 50,000 partners worldwide

Working with 1xPartners is profitable
The most popular form of cooperation with 1xBet partners is the Revenue Share system. With it, each partner of the company receives a percentage of the net profit acquired from the players they have brought to the bookmaker.  
The minimum affiliate commission within 1xPartners is 15%. At the same time, the maximum commission can be as much as 40%. 
Each new partner is assigned a personal manager to assist during the whole time of cooperation with 1xPartners. In addition, each partner is treated individually with the 1xBet Affiliate Program.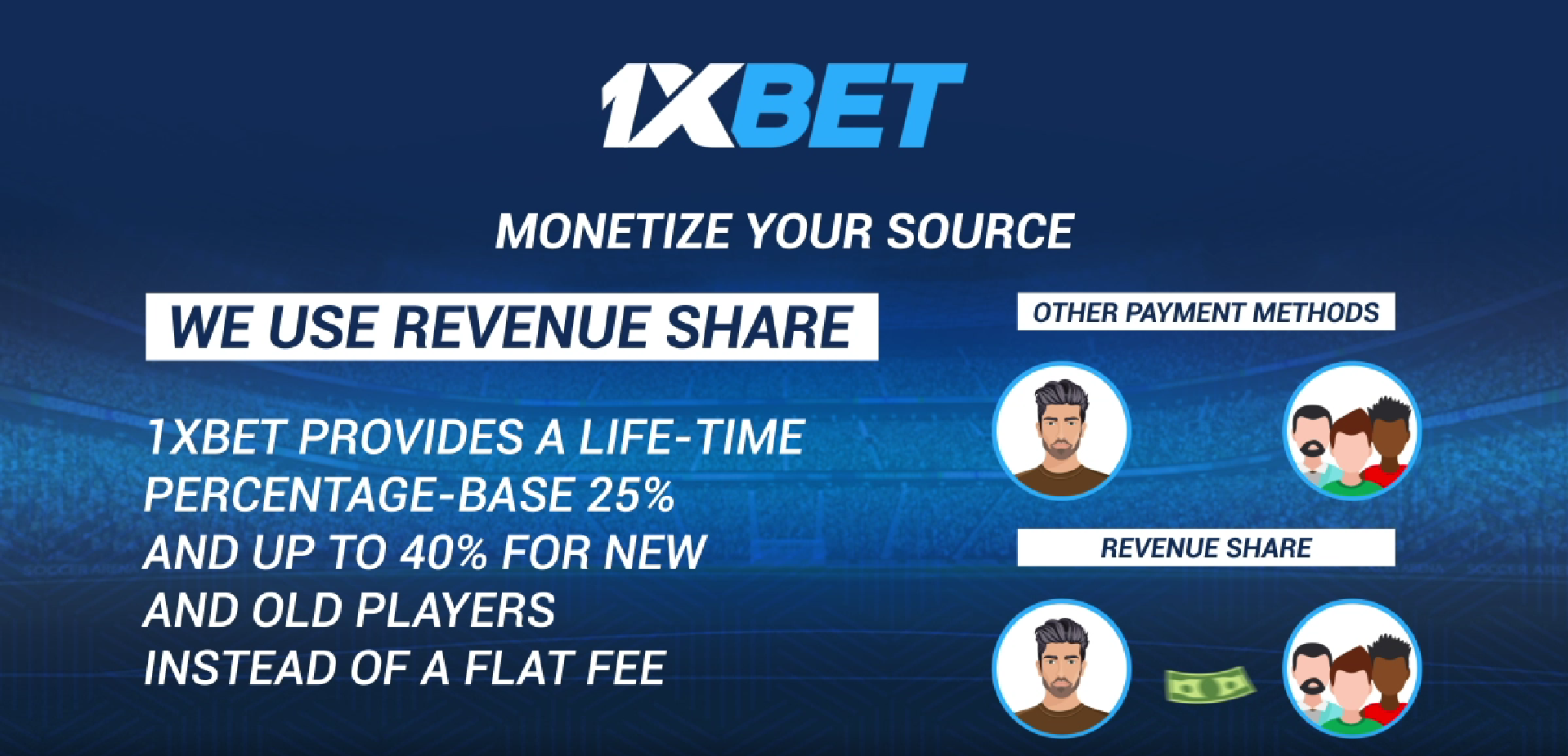 Passive income for referring each new partner
In addition to the opportunity to earn on referred players' activity, affiliates may receive passive income from the 1xPartners Sub-Affiliate Program (part of the 1xPartners Affiliate Program). Its main goal is to motivate existing partners to bring new affiliates. 
In return, they will receive a lifetime commission of 2% of the total revenue of new affiliates referred by them. 
How does it work? Let's imagine that in the first month you attract 5 new partners and in the second month 5 more new partners. And at the end of the second month, let's say each partner earned $500. So of that $5,000, your two percent will earn you $100.
You can find out more about how to join the Sub-Affiliate Program after you have registered with your account manager.
Get started with 1xPartners now! 
Join the 1xBet affiliate program to experience all its benefits for yourself. Register your account with 1xPartners absolutely free and take your earnings to the next level with the famous brand!