The iconic legend that many know and love as Princess Leia, passed away this week due to complications following a heart attack during a London to Los Angeles flight last Friday.  Carrie Fisher, the wickedly sarcastic 60 year old who was most known for her role in the Star Wars movies, was the daughter of actress Debbie Reynolds and pop star Eddie Fisher, ex-wife of singer songwriter Paul Simon, and a much sought after screenwriter editor.
Carrie Fisher was not only possessed all of those talents, but she also an extremely talented writer who was known for her unflinching honesty.  
As we go into the new year, and sometimes struggle to make it through each day, let us remember the very words that she herself lived by.
On her slave outfit in Return of the Jedi
"The father who flipped out about it, 'What am I going to tell my kid about why she's in that outfit?' Tell them that a giant slug captured me and forced me to wear that stupid outfit, and then I killed him because I didn't like it. And then I took it off. Backstage." Via The Wall Street Journal

On how she got cast in Star Wars
"I slept with some nerd. I hope it was George [Lucas] … I took too many drugs to remember." Via Vanity Fair
Leia's Wardrobe Wars: Episode I
"I weighed about 105 pounds at the time [during the first Star Wars film]. But I carried about 50 of those pounds in my face. So you know what a good idea would be? Give me a hairstyle that further widens my already wide face!"
On her recently revealed "method acting" affair with Harrison Ford
"It was so intense. It was Han and Leia during the week, and Carrie and Harrison during the weekend."
On her struggles with mental illness
"I thought I would inaugurate a Bipolar Pride Day. You know, with floats and parades and stuff! On the floats we would get the depressives, and they wouldn't even have to leave their beds — we'd just roll their beds out of their houses, and they could continue staring off miserably into space. And then for the manics, we'd have the manic marching band, with manics laughing and talking and shopping and fucking and making bad judgment calls."  
On the happiness myth
"If you have the expectation that you're going to be happy throughout your life — more to the point, if you have a need to be comfortable all the time — well, among other things, you have the makings of a classic drug addict or alcoholic."  
On shallow reviews
"Please stop debating about whether or not [I've] aged well — unfortunately it hurts all three of my feelings. My body hasn't aged as well as I have."
On being Princess Leia
"I am Princess Leia, no matter what. If I were trying to get a good table, I wouldn't say I wrote Postcards [From the Edge, her best-selling novel]. Or, if I'm trying to get someone to take my check and I don't have ID, I wouldn't say: "Have you seen [When] Harry Met Sally?" Princess Leia will be on my tombstone." Via WebMD
On ageing
"Please stop debating about whether or not I aged well. Unfortunately it hurts all of my feelings. My body hasn't aged as well as I have. Blow us." Via Twitter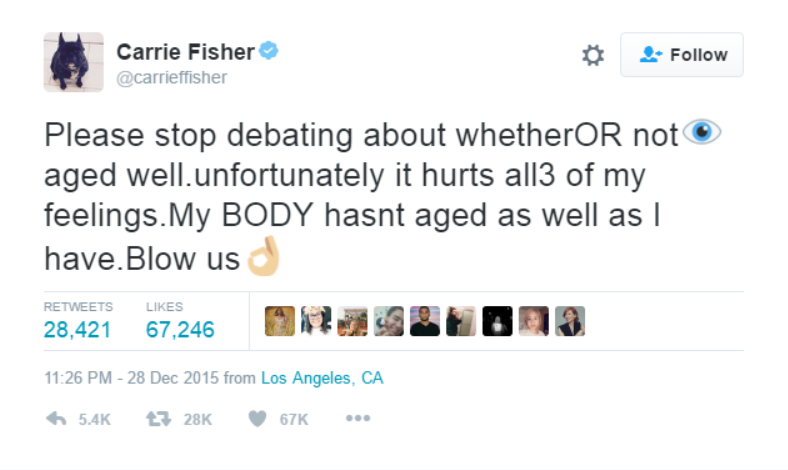 "I'm not happy about being older, except what are the options?" Via Rolling Stone
On fame
"You have owned my likeness, lo all these years, so that every time I look in the mirror I have to send you a check for a couple of bucks." Via George Lucas's Lifetime Achievement Award at the American Film Institute
On bipolar disorder
"Think of it as an opportunity to be heroic – not 'I survived living in Mosul during an attack' heroic, but an emotional survival. An opportunity to be a good example to others who might share our disorder." Via her advice column for the Guardian