Sometimes life gets in the way of your day to day marketing tasks. It just happens. If you've got an iPhone you might just be able to keep up with daily tasks using apps. You won't be able to get everything done but you'll find a surprising number of apps that help improve your daily processes.
Below you'll find iphone apps in several different categories related to online marketing tasks. These are just the tip of the iceberg. All apps are free unless otherwise noted.
Social Media Marketing Apps
HootSuite –  Get rid of multiple social media apps and replace them with Hootsuite. You'll be able to manage Facebook, Twitter, LinkedIn, and Foursquare from this one simple app.
WordPress – Run a WP based website? This is a great free app to help you manage your posts and pages. Blogging on the go at it's best.
Tumblr  – If you've got Tumblr in your content marketing mix this is a great app to use. Share anything posts, pictures, videos, and quotes!
Pinterest – What did we ever do before Pinterest? Anything you can do on their site you can do with this app.
Local Business Apps
Yelp – If you're a brick and mortar owner (or help manage marketing for one) this app will allow you to track reviews on your listing and respond to comments.
eCommerce Apps
Square – This is an app and hardware. This allows you to easily take credit card payments on the go without a merchant account. Truly revolutionary for any merchants that need mobile abilty
Paypal –  This is Paypals answer to Square. It does a lot of the same things plus gives the merchant the added benefit of Paypal's existing systems.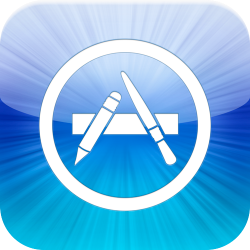 Analytics, SEO, and SEM Apps
Quicklytics ($4.99) –  This app allows you to check your Google Analytics account. You'll get real time data and pretty graphs formatted for your iPhone.
Fast Analytics –  This free app also allows you to check your Google Analytics account. Check multiple accounts and multiple sites per account. It's pretty and very handy.
Elite SEM –  This app has multiple calculators that help you figure out commone search engine marketing equations. Figure out CPC to CPM, Max CPC for PPC, and Banner and Email campaign CPA.
Link Juice ($1.99)-  Get link checking and search engine analysis ability on the Go with Link Juice. This app uses high quality data through api from reputable sources like seomoz and semrush
Productivity Apps
Google Drive –  Manage your Google documents, upload documents or pictures, and share. You can't create new spreadsheets or presentations yet. That's this apps biggest pitfall.
Dropbox –  share any kind of files with anyone, anytime. This app is a lifesaver and a big help when trying to make sure a collaboration group has all of the resources it needs. This and Google Drive are very similar.
Evernote –  Super handy tool that will digitize your documents. Just take a photo of that receipt and you've got a searchable, digital version of it for safekeeping.
Keynote ($9.99) –  If you've got a need for making presentations while on the move this is your app. It's not as good as the desktop version but it's very serviceable.
Prezi –  This app allows you to control prezi presentations. It doesn't allow you to edit or create new Prezi's though.
Have you tried any of these apps? Did we miss your favorite app? Let us know in the comments below.