The big announcement today was the iPhone 6, Apple Watch (ok didn't Samsung just do that and flop?) and Apple Pay.   This in my opinion is the company's attempt to do what Google could not and replace your wallet with your phone.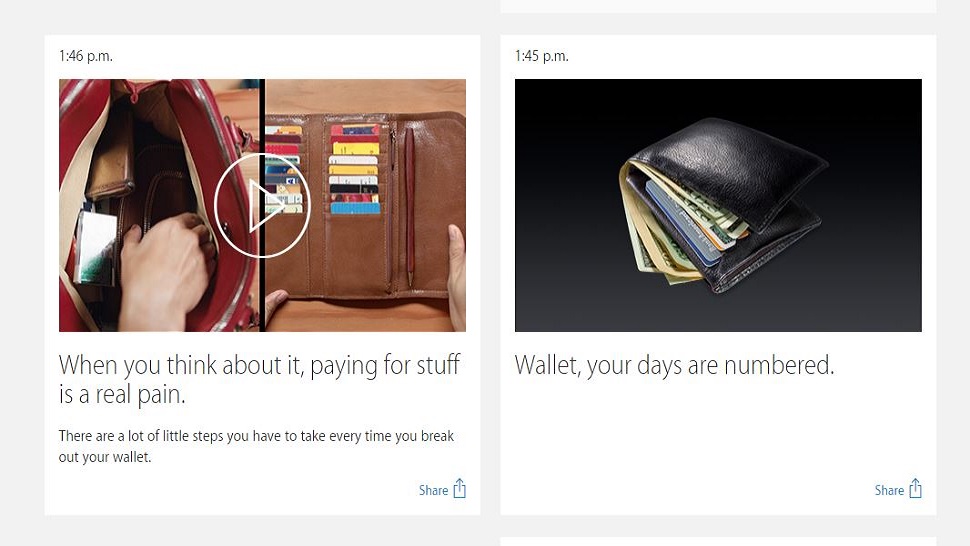 A screenshot from Apple's announcement of Apple Pay.
As an article from Forbes pointed out  "the Apple Pay arrives with a little less buzz than the iPhone 6 and certainly less glamour than the Apple Watch, and perhaps for good reason: its debut comes as conversations over digital security have reached a fevered pitch after yet another retailer confirmed a data breach and two weeks after an iCloud hack that exposed nude images of celebrities like Jennifer Lawrence and Kate Upton. And, not to mention, it arrives in the wake of eBay's "One Touch PayPal" and Venmo Touch, which some analysts think can withstand the threat from Apple."
Apple pay will use the same credit card information that is stored, which will allow consumers to pay for things by Touch ID.  Apple says that paying with Apple Pay is more secure than even handing your credit to the cashier at Wallie World, since they never will see your name or card number.   The service will be tied into the three top payment networks – American Express, MasterCard and Visa – and will be available to use at 220,000 merchant locations that currently accept contactless payments.
Forbes also points out that  "Apple Pay's technology echoes — and now competes with — that of eBay's PayPal, which in August unveiled its "One Touch PayPal," a service that allows consumers to pay for goods (at participating merchants) with one touch of the PayPal app. Apple will use what is known as near-field communication (NFC), a technology that enables people to pay for their things by waving or tapping their phone near (or on) a payment terminal. According to a new note from Citi Research, it's a payment technology that stands to handle a ton of money — as much as $58.4 billion by 2017, a figure that, if achieved, would represent a 174% compound annual growth rate since 2013 (when there were just $1 billion in mobile proximity payments)."
But what does this mean for the mobile payments that most of us use on a day to day basis?  Forbes asked Citi's Mark May what his thoughts on the matter were "he projects that eBay and PayPal will be able to stand its ground and gain a not-insignificant share of that $58 billion in mobile proximity payments. 'Not all of Apple's consumer-facing mobile apps have succeeded (e.g., Passbook, Maps). And, as it relates to PayPal, it still has the massive Android platform to innovate on,' he wrote."
"Apple's only hurdle to wide-scale iPhone-payment domination isn't just eBay — there's consumer sentiment it has to overcome. According to a new survey from CreditCards.com, 62% of Americans "never" or "hardly ever" use their phones to make a purchase, and many say that they will never, ever use their phone to pay for something: 49% of adults ages 50 to 64 don't plan on it and (unsurprisingly) 64% of adults 65 or older have no interest in swapping their wallet for their smartphone. Even in the youngest, tech-savvy set — the millennial generation — 30% of respondents said they wouldn't use their phone to make a purchase."
Would you use your phone to to make a purchase other than on the internet?  Share your thoughts – we would love to hear them! 
Portions of the article taken from:  Forbes